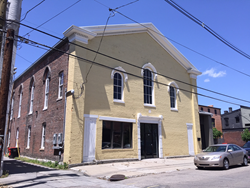 We've grown from an idea to now a mature engineering team with a flourishing roster of global clients, applications executing with multiple languages and still a vast opportunity before us to become a great internal communications solution for enterprises
Louisville, KY (PRWEB) May 13, 2015
Technology startup Red e App is a startup no more. The Louisville-based company announced today an expansion of the mobile communication platform's team and headquarters as it moves closer to a Series B round of funding and continues user growth. Red e App's team now totals 22 employees, more than doubling its team from the same time last year (9).
To make way for the enhanced engineering team, Red e App expanded its headquarters in Louisville's trendy NuLu neighborhood, taking over 3,500 additional square feet to now occupy both floors of its historic Shelby Street location. The building, once a church, was also a gym and favorite training spot for Louisville icon Muhammad Ali. CEO Jonathan Erwin enjoys the connection.
"Ali grew up in Louisville and became 'The Greatest,'" Erwin said. "We've grown from an idea to now a mature engineering team with a flourishing roster of global clients, applications executing with multiple languages and still a vast opportunity before us to become a great internal communications solution for enterprise companies around the world. It's a fun parallel to make, even if we plan to outgrow the Champ's old training facility."
The physical space was necessary for the addition of three engineers and four project and account talent required for Red e App's rapid growth. The newest members of the Red e App team include:
Brad Engel, Product Manager – The Vanderbilt product minds the Red e App product road map and coordinates the engineering product with the business needs of the company and clients.
Jonathan Frazier, Software Engineer – The MIT graduate and Louisville native leads Red e App's business analytics services while providing development support in a number of languages.
Leslie Hankins, Account Director – The DePauw University graduate comes to Red e App from Apple and leads business development and services for several clients, including Cafepress.
Kavon Kowsari, Software Engineer – A former engineer for UPS, Kavon handles server side application engineering.
Jenna Loop, Technical Operations Manager – The Indiana University product leads Red e App's Agile development process, managing the engineering team's sprints and product development.
Matt Stone, Software Engineer – Another DePauw University product and formerly with Atria Senior Living and Coca-Cola, Matt handles iOS engineering for the application.
Jenny Williamson, Account Director – The former WHAS anchor and reporter directs inbound leads and business development for new clients.
"As we grow, so does our story," Erwin said. "We are gearing up for Series B funding, growing in user base, staff and space. And we're a technology company like Facebook or Twitter based in Louisville, Ky. This is a proud announcement for us, but should also be for the community."
Red e App's private and secure internal communications platform connects companies with their hourly, front-line employee and those without company email accounts. Over half of the U.S. workforce qualifies under those descriptions and, thus, are left disenfranchised from company communications. The Red e App solution puts employees back in the loop on communications, helps improve team morale and productivity, and the business at hand run more efficiently.
The company has unique internal communications solutions for the verticals of manufacturing, hospitality, retail, healthcare and restaurants, and serves clients such as Papa John's, Woodhouse Day Spas, Peltz Shoes and Hosparus.
About Red e App
Red e App provides a private and secure internal communications platform that connects companies with their hourly, front-line employees and those without company email access. Red e App is focused on building a communication platform that is beneficial for enterprise business departments such as operations, human resources, risk management, and communication teams who need a unified and dedicated communication channel to reach every single employee. Red e App is available on iOS, Android, and web browsers. For more information on Red e App, visit our website (http://redeapp.com)