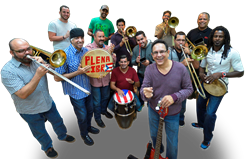 "PLENA LIBRE is superlative and excellent in every way
San Rafael, CA (PRWEB) May 13, 2015
The final 2015 Summer Nights Festival of 5 multi-cultural outdoor concerts with dinners, cocktails, picnics, dancing & more brings the torch bearers of Puerto Rico's plena, bomba and beyond. Plena Libre is THE Music of Puerto Rico. This 12-piece Puerto Rican-based ensemble infuses their contemporary Caribbean compositions with a deep sense of their unique indigenous musical traditions.
Plena Libre creates elaborate, visually stunning, carefully crafted choreography along with an aggressively tight, yet sensitive style that balances the traditional with the contemporary, the global with the local.
Be prepared for a sonic journey into the sounds of merengue, cumbia and, yes, even salsa as the band's five vocalists blend into three and four part harmonies. The virtuoso members of Plena Libre always provide their audiences with memorable performances and will leave everyone with a sense carefree abandon.
For this special night a wooden dance floor will be laid on the turf and the evening will begin with a bomba dance demonstration & lesson to get you up and moving all night.
The beautiful and safe Swig Field is surrounded by Marin hills and begs for picnicking, but will offer the choice of purchasing delicious as well as affordable meals on-site from San Rafael's own Sol Food pop-up Restaurant.
WHAT: Outdoor family- friendly concerts, fun, dancing and dining for all ages.
WHO: All are invited. No membership or affiliation required. Kids 17 and under free.
TICKETS: From $23. VIP, Reserved tables & General Admission choices
WHEN: Sat. Aug. 8 @ 7pm. Doors: 6:15 Gen Ad/ 6:00 VIP/Subscribers
WHERE: The Osher Marin JCC, 200 N San Pedro Rd, San Rafael, 1/2 mile E off 101
PARKING: Ample FREE parking.
BUY: Tickets available at http://www.marinjcc.org/arts
The Kanbar Center for the Performing Arts is the Performing Arts Department within the Osher Marin Jewish Community Center in San Rafael, California. All are welcome, no membership is ever required to attend. The Center is a long-standing Marin non- profit, centrally located in Marin County and just 1/4 mile east off Hwy 101
Summer Nights 2015
7/11- Bluegrass Night: Hot Buttered Rum
7/18- Hawaiian Islands: Hapa
7/25- SF Homegrown/Almost Country: The Lady Crooners
8/1- Afro-Cuban: Ricardo Lemvo & Makina Loca
Dance instruction & wooden dance floor
8/8 Celebrate Puerto Rico: Plena Libre
Dance instruction & wooden dance floor