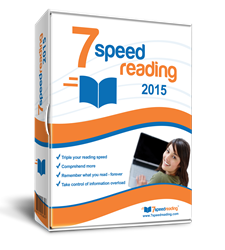 Reading a book reminds people to slow down and take in the beauty of the experience.
New York City, NY (PRWEB) May 19, 2015
eReflect, developer of 7 Speed Reading™, a software that teaches people how to speed read, shares insights on the joys and unique pleasures reading offers. In a recent blog post eReflect's editor explores the ways a book makes people happy, noting that the immersive experience it offers could well be the most thrilling experience a person gets from reading.
Reading books allows people to withdraw from the constantly noisy world they're part for and, for a few hours at least, be by themselves with a good book in hand. This immersive experience is rewarding for the brain and all of the senses, as it's what lets people lose themselves in another world.
Fast-paced lives and hectic schedules rob people of their ability to enjoy the simple pleasures in life. Reading, surprisingly, is a pastime not many people can afford. Even in a world of e-readers, smartphones and tablets, people still don't have the luxury to take time off of what they're tapping and swiping on screens and just read. Reading has sadly become another task on a long to do list, the eReflect editor notes.
Reading a book reminds people to slow down and take in the beauty of the experience. As the editor explains,
"Reading a book takes patience, and in our instant-gratification world, it's the reminder we need to simply pause and be inspired by the beauty of our surroundings. Reading is personal, but it's universal in its impact. It requires your full attention. Your book is the only thing that matters. No multitasking, no hashtags, no chores can mess with the serenity and bliss a good read offers you. So go on, find your next read."
While people don't have to learn to speed read in order to enjoy reading, it does make the experience all the more seamless and efficient, eReflect, designer of 7 Speed Reading™ program, says.
************
For more information about the benefits of using 7 Speed Reading, please visit the official website at http://www.7speedreading.com.
About 7 Speed Reading™
7 Speed Reading is the only modern speed reading software that uses the latest technology to produce superior results.
The software provides its users with a new way to master speed reading that guarantees three times the reading speed along with improved memory and comprehension.
The software is poised as the most comprehensive speed reading system anywhere. It contains seven learning strategies, fifteen software activities, video training, advanced tracking capabilities and many more exciting features.