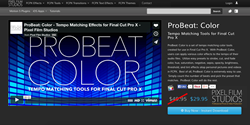 Start by counting the number of beats desired and ProBeat automatically synchronizes to the sound of the audio without keyframes or heavy editing.
Aliso Viejo, CA (PRWEB) May 13, 2015
With ProBeat Color, users can apply various color effects to the tempo of their audio files. ProBeat Color is extremely easy to use - simply count the number of beats, pick the preset that matches and ProBeat Color will do the rest.
ProBeat automatically synchronizes to the sound of the audio without keyframes or heavy editing.
Final Cut Pro X users can easily change color, hue, saturation and tint to the beat of the music. Keep it simple or create complex effects by stacking ProBeat Color presets in Final Cut Pro X.
ProBeat Color helps streamline the editing process when cutting video to sound. Instead of creating a new effect for every beat, ProBeat Color allows users to edit multiple beats with a single preset.
Utilize unique blend modes found in the Color presets to create interesting looks that match the theme of FCPX productions. For a frayed and grungy look, utilize burning blend modes. For more elegant styles, utilize lighten, soft light, or screen to soften the mood. The options are endless with ProBeat, which includes 88 presets.
"We intend to satisfy the needs of fans of FCPX around the world and get them what they need," said Christina Austin - CEO of Pixel Film Studios.
Pricing and Availability:
The Pixel Film Studios Plug-ins are available today through the Pixel Film Studios website starting at $29.95 USD. For more information, please visit the Pixel Film Studios website.
Established in 2006, Aliso Viejo, California-based Pixel Film Studios is an innovative developer of visual effects tools for the post-production and broadcast community. Their products are integrated with popular non-linear editing and compositing products from Apple FCPX. All Apple, the Apple logo, Mac OS X, and Macintosh are registered trademarks of Apple Inc. in the U.S. and/or other countries. All other trademarks and trade names are the property of their respective owners.