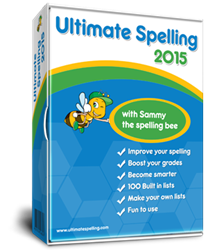 The idea of a simplified spelling of English enthralls many, but it is certainly something that also has opponents...
New York City, NY (PRWEB) May 18, 2015
Learn to spell software and cloud-based application Ultimate Spelling™ has used its official blog to share a possible new learning strategy that would help young native and non-native speakers of the language to learn how to spell faster and easier. eReflect's spelling tutor software editor says:
"Some people go as far as to propose an English language cleansing, where we stick to only words with unequivocal meaning and abandon confusing synonyms. . . . the words "inflammable" and "flammable," . . . are synonyms, though they appear to be the opposite."
While it is still too soon to tell if there will be a complete purge of the English language within the next few decades, there are several steps being taken in that direction, the eReflect editor says. For example, the International English Spelling Congress has been proposed as an event that may take place in the next few years, and is something that is designed to help purge the English language from all its unnecessarily complex spelling. This would possibly make English a more accessible language to learn, thanks to a series of more simplified and predictable spelling rules.
The spelling program creator asserts that the language itself is making it hard for ESL and native speakers alike to learn to spell, something confirmed by the sheer number of spelling programs out there that seek to make the process of learning how to spell less frustrating and more enjoyable.
While educators, Ed Tech experts, and leaders in educational institutions all seek ways to make learning to spell easier and faster, perhaps the solution lies in adjusting the language itself rather than the tools people use to master language in the first place.
The idea of a simplified spelling of English enthralls many, but it is certainly something that also has opponents, eReflect believes.
"That's why it is essential to make small, serious steps toward creating a discourse that could make such a scenario a possibility," eReflect's editor says.
***********
For more information about how Ultimate Spelling software can improve spelling performance for you and your family, please visit the official website at http://www.ultimatespelling.com.
About Ultimate Spelling™
Ultimate Spelling provides a modern and easy to use spelling software that has been designed with one goal in mind – making children want to learn.
It is a fast and easy way to master even the most complicated spelling, without the need to write long lists or complete boring tests.
In fact, Ultimate Spelling provides more than just spelling help. It is a complete educational resource that boosts all level of a child's literacy.
Containing a personal computer tutor, Ultimate Spelling is the most realistic step-by-step guide to flawless spelling ability.