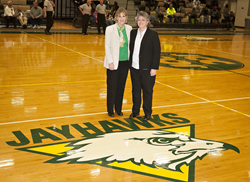 The AT profession has evolved since the current NYS Practice Act for athletic trainers was passed over twenty years ago.
Albany, NY (PRWEB) May 12, 2015
"Athletic trainers have tremendous value in the prevention, care, and management of orthopedic injuries in the physically active. We want to be given every opportunity to practice as we've been educated to do, and give consumers across NYS the opportunity to choose us as the capable, cost-effective healthcare professionals we are," states NYSATA Governmental Affairs (GA) Chair, Christine Jenkins.
Athletic training is practiced by certified athletic trainers (ATs), who have expertise in the assessment, emergency management, rehabilitation and prevention of acute and chronic sport-related injuries, illnesses and conditions, including concussions. The AT profession has evolved since the current NYS Practice Act for athletic trainers was passed over twenty years ago. It does not reflect positive changes, such as required curriculum education in order to qualify for and take the national certification exam, augmented educational requirements, and stronger clinical education standards.
In addition, the current language led to misinterpretations across the State in 2011 that threatened to limit what certified athletic trainers could do, despite their high levels of education and training, especially in regard to concussion management. Lastly, this legislation will grant Licensure to the AT profession. The current requirement is NYS Certification, but the new bill will require that every practicing athletic trainer in the State will meet strict Licensing requirements. This will further protect the public from unqualified individuals trying to provide athletic training services.
Assemblyman Charles Lavine (D-Long Island) again sponsored the bill, A1266A (formerly A6678), in the Assembly. Following some changes after the recent NYS election, Senator Rich Funke (R-Rochester) agreed to sponsor the Senate version of the legislation, S4499 (formerly S4465). Senator Funke has a unique perspective on the issue of sports safety both as a former athlete and with an extensive career as a sports broadcaster.
The athletic training practice act bills in NYS were updated in consultation with physicians and other healthcare professions to develop the best possible language for professional clarity and public safety. NYSATA continues to work with other stakeholders to refine and improve the bill(s).
Efforts, including grassroots endeavors, will continue in the coming months on this issue as athletic trainers and those who are supportive of the AT profession will continue to meet and educate their legislators and provide information to healthcare providers about the AT bills. Athletes, parents, and school groups who have utilized AT services understand the important role of the athletic trainer and ATs will rely on their support for the legislative bills. Anyone who knows a certified athletic trainer, or has experience with the work that ATs do, can also help by contacting their local Senators and Assemblymen to ask for their support of these bills.
NYSATA members and leaders will meet face-to-face with legislators in Albany this Wednesday, May 13th during their annual Lobby Day event to reinforce the importance of this legislation, answer questions, and ask for their support.
In addition to visiting Legislators in their Albany offices, athletic trainers are inviting representatives to visit their local athletic training facilities. Most recently during this legislative session, Senator Catharine Young (R-western southern tier), paid a visit to Jamestown Community College's athletic training room and head athletic trainer - and NYSATA President - Aimee Brunelle. The February 21st visit gave Senator Young the opportunity to learn and observe what ATs do, and assess the positive influence ATs have on student-athletes. Senator Young also sponsored a 2015 Resolution officially proclaiming March as Athletic Training Month in New York State during the annual National Athletic Training Month (NATM) and will present the certificate to NYSATA representatives during Lobby Day on Wednesday.
NYSATA, founded in 1976 and incorporated in 1989, stands to advance, encourage and improve the profession of athletic training (AT) by developing the common interests of its membership for the purpose of enhancing the quality of healthcare for the physically active in New York State. Comprised of over 1,200 certified and practicing athletic trainers, NYSATA is the state-wide affiliate of the regional Eastern Athletic Trainers' Association (EATA) and District Two of the National Athletic Trainers' Association (NATA).