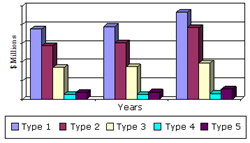 The global antioxidants market is expected to grow at a five-year compound annual growth rate (CAGR) of 4% from 2014 to 2019, to nearly $5.7 billion.
(PRWEB) May 12, 2015
Wellesley, Mass., May 12, 2015 – BCC Research reveals in its new report on antioxidants that the increasing demand from the rubber, plastic and fuel sectors are key drivers of market growth. Antioxidants are growing in popularity based on the trend toward health and well-being, increased usage of anti-aging serums, the growing demand for food preservatives, as well as fuel additives used primarily in the plastics and rubber industry.
In particular, the food and feed markets are expected to increase their use of antioxidants, with growth in the natural antioxidants category to rise more than the overall global market for antioxidants. The overall global market is expected to increase at a five-year annual compound growth rate (CAGR) of 7%.
BCC Research forecasts the global antioxidants market to reach about $4.5 billion in 2014. From 2014 to 2019, the market is expected to grow at a 4% CAGR, reaching a value of nearly $5.7 billion in 2019.
"In 2019, it is estimated that amine-based antioxidants will account for $2.3 billion of the overall antioxidants market, at a five-year CAGR of 3.7%. The substitute phenols category is expected to grow at 5% CAGR to reach $1.9 billion by 2019," says BCC Research analyst Aneesh Kumar. "Meanwhile, the growth rate for thioesters is anticipated to be low when compared to the overall global market, at a five-year CAGR of 3.2%."
Antioxidants: Applications and Global Markets analyzes recent developments and current trends in the global antioxidants market. The report also provides revenue forecasts from 2014 to 2019 for each major class of antioxidants based on their applications and regional market.
Editors and reporters who wish to speak with the analyst should contact Steven Cumming at steven.cumming@bccresearch.com.
About BCC Research
BCC Research publishes market research reports that make organizations worldwide more profitable with intelligence that drives smart business decisions. These reports cover today's major industrial and technology sectors, including emerging markets. For more than 40 years we've helped customers identify new market opportunities with accurate and reliable data and insight, including market sizing, forecasting, industry overviews, and identification of significant trends and key market participants. We partner with analysts who are experts in specific areas of industry and technology, providing unbiased measurements and assessments of global markets. Recently selected as the world's greatest market research company, BCC Research is a unit of Eli Global, LLC. Visit our website at http://www.bccresearch.com. Contact us: (+1) 781-489-7301 (U.S. Eastern Time), or email information@bccresearch.com.