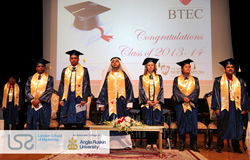 We are very proud to have attended this degree passing event and would like to congratulate the graduates on this significant milestone in their lives
Abu Dhabi, United Arab Emirates (PRWEB UK) 14 May 2015
London School of Marketing (LSM), offering accredited marketing and business qualifications in the heart of London, has celebrated a significant milestone in the global delivery of its Local Access Points (LAPs) programme. Last month, the leading educational institution celebrated its first local graduation ceremony hosted by its LAP partner in Abu Dhabi.
The ceremony recognised graduates who completed their BA and MA degree programmes, awarded by Anglia Ruskin University by their local LAP partner, BTEC. With campuses in Dubai, Abu Dhabi and Al Ain, BTEC is one of LSM's top performing LAPs in the Middle East.
"We are very proud to have attended this degree passing event and would like to congratulate the graduates on this significant milestone in their lives," stated Suenette Hoon, Head of Relationships and Compliance Department, Local Access Points. "We would also like to commend the staff at BTEC for their contribution in helping us to provide UAE students with a British education from the comfort of their home country."
"It is especially pleasing to see leading employers such as Ferrari World, Etihad Airways as well as Abu Dhabi National Development bank sponsoring students to study for these prestigious British qualifications," added Dr. Nadith Kawshalya, LSM's Chief Commercial Officer, who was also in attendance.
To mark the occasion, Dr Sally Everett, Deputy Dean (Quality and Student Experience) at the Lord Ashcroft International Business School, Anglia Ruskin University, handed certificates to the BA (Hons) degree graduates, after making a formal address. BTEC's patron, Abdulla Jamal Al Marsouqi presented students with their MBA certificates.
Candidates will also be invited to attend the official Anglia Ruskin University graduation event which takes place in October 2015 at Anglia Ruskin University's campus in Chelmsford.
About London School of Marketing
An associate college of Anglia Ruskin University, London School of Marketing offers academic and professional courses in business and marketing, validated and approved by industry leading professional bodies including The Chartered Institute of Marketing and the Digital Marketing Institute. Based in Central London, they are a QAA approved institution. The school also has offices in Sri Lanka, a network of Local Access Points (LAPs), and online programmes of learning. LAPs courses offered through BTEC include MBA (Top up) and BA Honours in Marketing (Top up), delivered by LSM and awarded by Anglia Ruskin University.