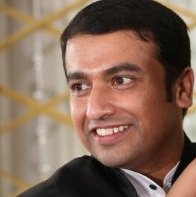 I am eager to build and grow PTW's Quality Engineering services and am elated to be part of Pole To Win's management team.
Santa Clara, CA, USA (PRWEB) May 14, 2015
Pole To Win International is pleased to announce that Praveen Thangavelu has joined as Director of Quality Engineering. In this position, Praveen is responsible for overseeing PTW's QE services and global team of QE engineers in several locations around the world including the US, UK, and India. He will continue to drive Pole To Win's Quality Engineering team to innovate new ways to help our Clients provide their users with a seamless Customer Experience.
"I am excited to join PTW as we expand our Quality Engineering capabilities, and focus on test automation, performance, infrastructure and continuous integration. I look forward to helping our Clients benefit from test driven design as a paradigm to improve testability and throughput by adopting the right toolset, techniques and best practices. I am eager to build and grow PTW's Quality Engineering services and am elated to be part of Pole To Win's management team."
Prior to joining PTW, Praveen was at TokBox as Senior Manager of Quality Engineering where he built and managed a worldwide team of engineers. He also managed all aspects of TokBox's cloud quality and release process. Prior to TokBox, Praveen worked at Salesforce as a Senior Engineer with Salesforce Platform R&D and at Yahoo! as a Quality Assurance Lead.
"Pole To Win International is the industry leader in all aspects of Quality Assurance, Quality Engineering, Automation, Customer Experience, Localization, and Talent Acquisition," said Pole To Win CEO, Teppei Tachibana. "The addition of Praveen to our team is an example of our continued commitment to ensuring consistent quality and targeted results for our clients. We are thrilled to have him bring his incredible depth of experience to Pole To Win."
About Pole To Win:
Pole To Win is the world's premier video game and e-commerce services provider. With a range of services including Testing, Quality Engineering, Localisation, Customer Support, and Onsite Services, PTW is a one-stop-shop for your production needs. With two decades of experience and a global reach stretching across 19 studios, PTW has the infrastructure to support projects and companies of all sizes. Pole To Win International Group is a group of subsidiaries of Poletowin Pitcrew Holdings Inc. POLE TO WIN is a registered trademark of Pole To Win Co., Ltd in Japan and other countries. All rights reserved. For more information, visit http://www.poletowininternational.com. Stay connected with PTW International on Facebook, Twitter, and LinkedIn.