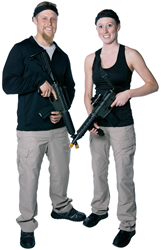 There is no other laser tag system out there that can do as much as the iCOMBAT system can.
Whitewater, Wisconsin (PRWEB) May 14, 2015
iCOMBAT, the world-wide leader in providing laser tag equipment to the entertainment industry, now offers a complete solution for entrepreneurs looking to get started. With the addition of the kid-focused Hero Blast non-gun tagger, iCOMBAT offers equipment for all market types and budgets. Any size business can now tap into one of the fastest growing entertainment activities in the world, using equipment that fits their plan of action.
iCOMBAT offers systems for all ages, starting with the non-gun, wrist-mounted Hero Blast for players 12 and under. This device comes in multiple colors, features state-of-the-art electronics, and is perfect for markets where "guns" are troublesome objects.
From there, operators can choose the Barracuda or Barracuda Pro, laser tag guns that offer amazing features at a great price. These are the most common outdoor laser tag guns in the world, with the Pro being a more realistic and customizable option. These guns are easy to set up and use, and are durable enough to handle abuse from any type of player.
For operators looking to set up a premium experience, they can opt for the tactical line of products, which feature ultra-realistic weapons and equipment. This gear utilizes live noise and recoil, comes in several configurations, and can be used in professional markets (such as law enforcement training) for additional revenue.
The iCOMBAT Engine (ICE) software allows operators to fully manage their gaming, operations, marketing, financials, and more depending on the type of license they obtain. ICE is light years ahead of the laser tag software currently on the market, and specializes in the player experience. Players can create accounts that track their stats, achievements, match history, and more. The entire line of iCOMBAT products can be wirelessly synced to and controlled by this software.