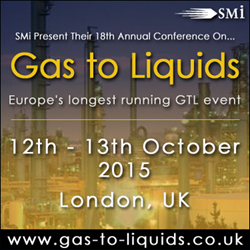 Regularly visited by over a hundred experts from around the world, Gas to Liquids 2015 is sure to be one of the highlights of the industry calendar providing delegates with insightful presentations on the latest developments within the GTL industry
London, UK (PRWEB UK) 13 May 2015
The dwindling oil-gas margin has had a dramatic influence on the current status of the Gas to Liquids market, with major GTL projects being placed on hiatus or shut down all together. However, recent advancements in smaller-scale GTL solutions and its commercial viability are driving down the capital and operating cost of GTL. With regulatory and legislative forces favouring the GTL market we are sure to see an expansion in the industry.
Regularly visited by over a hundred experts from around the world, Gas to Liquids 2015 is sure to be one of the highlights of the industry calendar providing delegates with insightful presentations on the latest developments within the GTL industry and discussions on the impact of the lower oil price on the current state of the GTL market. This is a unique opportunity for attendees to gain a competitive edge as well as key insight into the strategies to overcome the logistical, financial, technological and economic challenges associated with GTL projects.
Registration is now open. Further information is available at http://www.gas-to-liquids.co.uk/prweb
Event speakers include leading experts from Velocys, Narkangan GTL Company, Primus Green Energy, ExxonMobil & Research, NiQuan Energy, Oberon Fuels, E-Meta Venture, Malwell Corporate Projects, SPTEC Advisory, CEG Europe, SMBC Europe Division, ABB Group, Renaissance Heavy Industries and many more.
The event programme also includes an interactive half-day post-conference workshop "How viable are GTL opportunities in today's energy price world?", hosted by Alex Forbes, Director, Forbes Communications.
Key Benefits of Attending Gas to Liquids Include:

Learn about the latest technological developments in small scale GTL
Hear from leading experts in the field on long term trends and drivers
Discuss the effect of the oil price margin on the GTL industry
Understand what makes projects fail and risk mitigation strategies
Join topical panel discussions and debates on the economic and commercial viability of GTL
Assess the locational aspects of GTL including where, why and when it works
Debate the benefits of GTL versus other gas monetisation options
For those who are interested in attending this event, there is currently an early bird discount of £400 before the 29th May 2015
GTL-2015 is proud to be supported by Interfax Energy, Cedigaz, Gas Infrastructure Europe Association, Fierce Energy, Inderscience Publishers, NRG Expert, LNG Industry, Petroleum Africa, Navigant Research and many more.
Sponsorship: contact Alia Malick +44 (0) 207 827 6168, amalick(at)smi-online(dot)co(dot)uk
Delegate information: contact Andrew Gibbons +44 (0) 207 827 6156, agibbons(at)smi-online(dot)co(dot)uk
Contact for media-partners: Julia Rotar, jrotar(at)smi-online(dot)co(dot)uk
http://www.gas-to-liquids.co.uk/prweb
------------------------- END --------------------------
About SMi Group:
Established since 1993, the SMi Group is a global event-production company that specializes in Business-to-Business Conferences, Workshops, Masterclasses and online Communities. We create and deliver events in the Defence, Security, Energy, Utilities, Finance and Pharmaceutical industries. We pride ourselves on having access to the worlds most forward thinking opinion leaders and visionaries, allowing us to bring our communities together to Learn, Engage, Share and Network. More information can be found at http://www.smi-online.co.uk