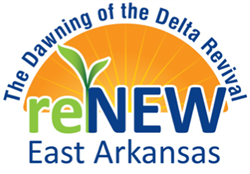 This is the time for the citizens of east Arkansas to take ownership of our future.
Jonesboro, Arkansas (PRWEB) May 12, 2015
This May, leaders from around the region, state and nation are gathering in Jonesboro for a landmark event. East Arkansas Planning and Development District invites members of the public to attend this celebratory summit as part of its reNEW East Arkansas regional planning project.
Over the past three years, EAPDD has partnered with local leaders to develop a long-range, comprehensive plan for the future of its 12-county region. Over 4,000 people gave 29,000 hours of their time to identify issues of local and regional importance, resulting in a new spirit of collaboration among East Arkansas communities. With a $2.6 million investment from the HUD/DOT/EPA Regional Sustainability Planning Grant in 2011, the region has been given the tools to prepare for a major transformation and correct their course. This summit will officially kick off implementation of the regional plan and ignite passion of local community members to affect change.
The one-day regional summit – "Igniting Our Region's Capacity for Growth" – will be held on May 28th at Arkansas State University's Carl R. Reng Student Union Center. Registration begins at 7:00 a.m., with adjournment at 4:15 p.m.
Morning sessions are designed to provide information about the resources available to the region and will include panels of representatives from federal and state agencies as well as philanthropic organizations. Brian Kelsey, Principal and Founder of Civic Analytics, will then give a data presentation about East Arkansas, illustrating how the region measures up against the rest of the state and the nation according to the numbers.
Dr. Jan Young, Executive Director of the Assisi Foundation of Memphis, will be the keynote speaker. Dr. Young will discuss the importance of effort with intentionality to sustain progress.
In the afternoon, registrants will have the opportunity to attend two break-out sessions. Topics for these sessions include community engagement, civic conditions, utilizing data to tell the story, redeveloping dilapidated properties, workforce development, connecting people to local foods, small business as economic development and more.
"This is the time for the citizens of east Arkansas to take ownership of our future," said Melissa Rivers, EAPDD Executive Director. "Now is the time to think outside the box and grab hold of the opportunities that are before us. This day will build on the thousands of hours of hard work over the past three years and will ignite our region's capacity for growth."
To register, visit eapdd.com/summit to find a complete packet of information about the venue, speakers and sessions. For assistance with the registration process, call the EAPDD at 870.932.3957.
A $75.00 registration fee will provide participants with access to all sessions, parking, a continental breakfast, lunch, afternoon refreshments and a resource guide full of tools.
"Communities from around the region have come together in a powerful new movement designed to create a lasting, sustainable difference," said EAPDD Board Chairman Judge Don Gentry. "We need to use this summit to both celebrate these changes and provide citizens with the resources they need to put ideas into action when they return home."
For more information, and interviews contact:
Jamie R. Wright
Deputy Director
East Arkansas Planning & Development
870.932.3957 – office
870.219.3472 - cell