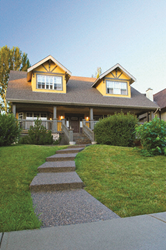 Beginning now and lasting throughout the spring, pest prevention in and around your home is key to promoting a healthy and safe environment
South Elgin, Illinois (PRWEB) May 13, 2015
McCloud Services, a leading pest management company based in South Elgin, Ill. encourages homeowners to take a proactive approach to pest proofing their homes this spring.
"As pests emerge from their overwintering spots, we encourage the public to tackle simple home improvement and landscaping projects that will make a big difference in staving off infestations during the warmer months. Beginning now and lasting throughout the spring, pest prevention in and around your home is key to promoting a healthy and safe environment," said Patricia Hottel, technical director, McCloud Services.
In Chicagoland and Illinois, ants can be a spring pest to watch for, especially during the early months. Homeowners may also see some of the common fall invaders start to become active as they search for ways out of structures. Yellow jackets and paper wasps may start constructing nests and rodents, birds and termites will also start to become active.
McCloud Services recommends the following tips to pest-proof the home this spring:

Seal any cracks on the outside of the home with a silicone-based caulk, including entry points for utilities and pipes.
Replace weather-stripping and repair loose mortar around the foundation and windows.
Keep tree branches and shrubbery well-trimmed and away from the house.
Repair fascia and rotted roof shingles.
Keep mulch at least 15 inches from the foundation.
Eliminate sources of standing water around the house, including birdbaths and in clogged gutters.
Keep basements, attics, and crawl spaces well ventilated and dry.
Store garbage in sealed containers and dispose of it regularly.
Avoid leaving pet's food dishes out for long periods of time.
Contact a licensed pest professional if an infestation is suspected.
For more information on common household pests or more pest-proofing tips, please visit http://www.mccloudservices.com
About McCloud Services
McCloud Services, based in South Elgin, Ill., is the leader in integrated pest management solutions. Known for providing the highest level of pest management services and customer care, McCloud Services pest management programs are designed to target immediate pest concerns with the least possible hazard to people, property and the environment. McCloud Services is a regional service provider with locations in 11 states. For more information, please visit: http://www.mccloudservices.com
###