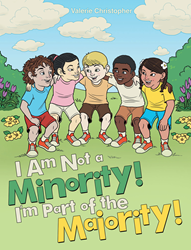 Our thinking and speaking about race needs to be adjusted to resonate with the prevailing global reality
Voorhees, N.J. (PRWEB) May 13, 2015
Demographic forecast predict Caucasian children will make up less than half the population of under 18 year olds in the U.S. by 2020. "Our thinking and speaking about race needs to be adjusted to resonate with the prevailing global reality," says author Valerie Christopher. "Thinking of 'any' race as the majority lacks a more sensitive form of awareness and does not promote community cohesiveness."
Christopher wants to reset the accepted worldview in regard to race. By reaching out to young children in her new book "I Am Not a Minority! I'm Part of the Majority!" with the message that children are not less because they are sometimes outnumbered, she hopes to encourage a new generation to dream big and celebrate their special placement in this world.
"I have a great concern for children 'hearing themselves' being referred to as minorities," Christopher said. "I feel it is an alienating term when it is used to characterize any race of people."
Christopher's book is filled with multi-cultural images of children learning, playing, and dreaming about their futures with equal expectations.
"As children and adults, we are people," Christopher said. "We might be of African, Caucasian, Asian, Hispanic or Indian descent, but we are still people. There are people who look like all of us all over the planet. So no one, racially speaking, is a minority. We are all part of the majority."
For more information, visit http://www.valeriechristophercollection.com.
"I Am Not a Minority! I'm Part of the Majority!"
By Valerie Christopher
Softcover | 8.5 x 11 in | 40 pages | ISBN 9781483429571
E-Book | ISBN 9781483427270
About the Author
Valerie Christopher is a writer and consultant. Following a private-sector career, she established her own consulting business. An educator at heart, she has taught cultural-studies courses and written educational materials on various topics. Her academic focus is in education and health science, and her personal passion is history.
Lulu empowers people of all ages to explore and express their interests, passions and expertise through books, photography and art. Since introducing self-publishing in 2002, Lulu has empowered creators in more than 225 countries and territories to produce nearly two million publications. Lulu Jr. allows children to become published authors, encouraging creativity, strengthening literacy and building self-esteem. Picture.com offers professional photography of collegiate and professional sports, memorable and historic events, fine art and home décor. For more information, please visit http://www.lulu.com.