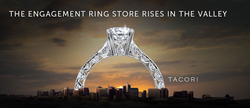 Arizonans seek quality products and a meaningful shopping experience
Los Angeles, CA (PRWEB) May 13, 2015
Get ready to raise your glass and make a toast to the union of Robbins Brothers, The Engagement Ring Store and the Valley of the Sun! Robbins Brothers celebrates the opening of its first Phoenix location in Scottsdale with a VIP charity event to benefit Future for KIDS and a grand opening weekend filled with special financing, top designer collections, swag bags and more.
On Thursday, May 14, the destination retailer will host a private event for media personalities, bloggers and city dignitaries who will get a sneak peek of the store before opening day, and also enjoy a fashion show by local personal stylist Rochelle York. Guests will have a chance to benefit Robbins Brothers' charity partner, Future for KIDS, a non-profit organization that helps children who face adversity excel through camps that focus on academics, athletics and ethics.
Visit the Scottsdale store on Friday, May 15 thru Sunday, May 17 and view a large selection of engagement rings and loose diamonds. Check out top designer collections including Coast, Simon G., Verragio, Michael M., Henri Daussi and Tacori. You can even pick up some Perfect Proposals tips from engagement experts. They can tell you everything you need to know before popping the question from purchasing the ring to planning the perfect proposal. Guests will also receive special financing, swag bags, raffle giveaways and tasty treats (call 800.610.7464 for more information).
"Arizonans seek quality products and a meaningful shopping experience," said Andy Heyneman, president and CEO for Robbins Brothers. "We are anxious to win this market's heart and provide customers with the very best selection and education too."
"We already feel welcomed by the community and look forward to engaging with many, many couples in this great city!" said Ray Golden, general manager of the Robbins Brothers Scottsdale store.
The Scottsdale store opens for business on Friday, May 15 at 10am at 7435 E. Frank Lloyd Wright Blvd.