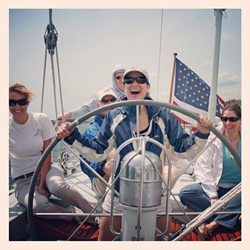 The business parallels and teambuilding ROI for meeting planners and their companies and organizations are very clear with organized yacht racing.
Newport, Rhode Island (PRWEB) May 12, 2015
In May 2015, the seaside town of Newport welcomed The Volvo Ocean Race, the most prestigious sailing event of the year. International sailing teams circumnavigate the world's oceans on their quest for supremacy of the seas aboard multimillion-dollar, high-tech racing yachts. And while it takes years of training and skill to compete in this global race, Hotel Viking invites meeting and event planners to take advantage of Newport's sailing legacy to create high-impact team-building experiences in just a few days. In partnership with America's Cup 12 Meter Yachts, Hotel Viking offers single and multi-day team-building experience from a single yacht to a whole fleet of yachts. For more information, contact 401-848-4800.
"The business parallels and team-building ROI for meeting planners and their companies and organizations are very clear with organized yacht racing," says John Harrison, CMP, Director of National Accounts for Hotel Viking. "These boats are highly tuned machines, and to perform at their peak potential and beat their competition, it requires all that crew members work together in unison toward a common goal. People on the water very quickly learn how to communicate to each other well, understand everyone's strengths, and make strategic decisions under shifting conditions."
Newport is the only port-of-call in the United States during the 2015 Volvo Ocean Race. Anchoring this charming collection of historic seaside communities with a long legacy of maritime lore, the 208-room Hotel Viking actively engages visiting meeting and event attendees with the local sailing community, such as 12 Meter Charters. The adventure company offers meeting planners the chance to create customized yacht races for groups small groups and large with hands-on participation aboard its sleek 40-foot America's Cup sailboats.
"There is nothing like zipping across Newport's inner harbor on an authentic America's Cup yacht keeled over on a broad reach at 25 degrees, with the sails stretched taut from the billows of air pushing the craft over 30 knots," says Harrison. Attendees can just enjoy the ride while learning the basics of world-class yacht racing if they want to, but most prefer to work together as a synchronized team to help man the winches and hoist the sails for a fully immersive, unforgettable group experience.
12 Meter Charters offers a wide array of other sailing craft for more leisurely company retreats, sunset cocktail receptions and daytime networking events. The seasoned skippers have over 100 years of experience, and many past meeting planners have said their passion for the wind and water add as much to the event experience as the sailing. The sailors tend to make some the best ambassadors for Newport and they're always ready to share their exploits and those of the men and women before them who've helped make Newport into one of America's most legendary port-side settings.
And while this year's sailing crews from the Volvo Ocean Race, including the women's-only Team SCA skippered by American Samantha Davies, are stationed in Newport through May 17 to repair their boats and gear up for the upcoming ocean crossing to Portugal, locals, visitors and guests of Hotel Viking can enjoy the Exploration Zone and the Race Village, both located at Fort Adams State Park, offering interactive and educational experiences, a working boatyard, live entertainment and more. The exhibits and events will go until the teams depart on May 17, 2015.
The teams started their journey on October 11 from Alicante, Spain, and will make several stops before finishing in Gothenburg, Sweden, in June. The race covers 44,580 miles over nine months. To follow the teams, including Dongfeng Race Team, Abu Dhabi Ocean Racing Team and Team Brunel who crossed the finish line into Newport minutes apart from each other, visit https://www.facebook.com/volvooceanrace.
To create your own racing experience for your group or special event, call Hotel Viking at 401-848-4800, or visit http://www.HotelViking.com.
Meetings at Hotel Viking
A popular destination for meetings and groups, Hotel Viking is home to 208 guest rooms and flexible meeting space. The hotel's 13,400-square-foot meeting and special event space includes: the Viking Ballroom with 5,880 square feet complete with extensive flexibility and five breakout space configurations for large groups; the Bellevue Ballroom is a classically-designed 4,032-square-foot space; and there is an Executive Boardroom that seats up to 8 people; as well as four additional meeting rooms with a total 100 guest capacity. These spaces are handsomely appointed with gilt mirrors, 19th century artwork, shimmering chandeliers and some feature graceful floor-to-ceiling windows. All meeting room arrangements feature: high-speed Internet and Wi-Fi access; in-house audio/visual capability; on-site technical assistance; and access to a 24-hour business center. A center courtyard provides a pleasant, airy respite from a day of business meetings or just a comfortable space to get a breath of fresh air. A member of the Historic Hotels of America and the first Green Certified hotel in Newport, Hotel Viking welcomes hundreds of groups each year. The property also offers two EV car charging stations, and the restaurant and catering team are part of the Trace & Trust initiative that sources sustainable, fresh local fish, produce and meats.
About Hotel Viking:
Hotel Viking, a member of the Historic Hotels of America, is located at One Bellevue Avenue in Newport, Rhode Island. Hotel Viking offers 208 elegantly appointed guest rooms and suites. With more than 13,000 square feet of event space, Hotel Viking easily accommodates groups and weddings large and intimate. Hotel Viking's culinary experiences include the award-winning One Bellevue, which offers three meals and Afternoon Tea daily, indoor and patio dining, as well as a bar and lounge. Top of Newport is Hotel Viking's seasonal roof top lounge offering live entertainment and special events and menus. The hotel's full-service spa features a selection of massage and skin treatments. Additional amenities include an indoor heated pool, fitness center, courtyard and the historic Newport Kay Chapel. Hotel Viking is a 30-minute drive from TJ Green Airport (27 miles) in Providence and the Providence Train Station, and is driving distance from Boston (70 miles) and New York City (170 miles). For information, please contact Hotel Viking 401-847-3300 or visit online at http://www.hotelviking.com. Be social at http://www.facebook.com/HotelViking and http://www.twitter.com/HotelViking.
About Pyramid Resort Group:
Pyramid Resort Group manages and asset manages a diverse portfolio of resorts in one of kind destinations across the United States and the Caribbean. These locations range from Hawaii to Arizona to Florida and to the Cayman Islands. Pyramid Resort Group delivers creative, engaging experiences for the leisure and group guest inclusive of golf, spa, fitness, dining, meetings, recreation, water sports, and cultural immersion. http://www.pyramidresortgroup.com
###