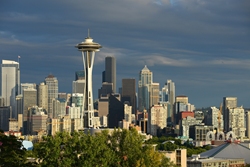 The opening of our Seattle office is another step in extending the strength and depth of the global ikeGPS team - ikeGPS CEO Glenn Milnes
Bloomfield, CO (PRWEB) May 12, 2015
ikeGPS (NZX:IKE) announced today the opening of a new Seattle office in support of the company's global growth plans. The Seattle office will house an engineering operations team that will extend the software and hardware engineering teams based in its Wellington, New Zealand offices.
ikeGPS' flagship products – Spike and GE MapSight – combine mobile computing, digital camera, lasers, GPS and sensor technologies with easy-to-use software apps that enable users to capture measurement data in support of various field data collection workflows. For example, GE MapSight is utilized by engineering service firms for utility pole inspections and joint use permitting. Outdoor sign professionals, property inspectors, and remodeling companies use Spike for site surveys and estimations.
According to Dr. Richard Mander, ikeGPS' executive vice president of engineering & operations, "Seattle boasts one of the strongest engineering talent pools in the US market, with a majority of these professionals coming from industries that align well with our product line – smartphone and tablet manufacturers, enterprise and consumer mobile app development, cloud infrastructure and Internet technologies. We're excited to leverage this abundance of experience and knowledge to further support the growth of ikeGPS."
A native New Zealander, Dr. Mander joined ikeGPS in November 2014 and brings a wealth of local experience to ikeGPS. Based in Seattle since 2008, he has worked as Entrepreneur in Residence at the University of Washington, VP Product Management at Contour, and CTO of Visualant. Prior to that he was CTO of Navman and Engineering Group Manager at Apple. In 2004, Dr. Mander was named World Class New Zealander – a prestigious annual award that recognizes New Zealanders working abroad who make an outstanding contribution to New Zealand's economic development. Dr. Mander was selected based on his many successes leading and guiding technology companies looking to grow and expand their businesses internationally.
ikeGPS CEO Glenn Milnes noted: "The opening of our Seattle office is another step in extending the strength and depth of the global ikeGPS team. We are delighted to have already hired some outstanding people into the Seattle office, who will be led day-to-day by Richard Mander. Since our IPO in 2014, we have now established a presence in key locations in Colorado, Singapore, Munich, and now Seattle."
The new ikeGPS Seattle office is located at 1000 Second Ave, Suite 1730.
About ikeGPS
ikeGPS is changing the way the world is measured, utilizing its smart laser measurement solutions to capture, record and export measurement data. Electric utility, telecom, government, engineering, construction, real estate, signage, and other field data collection-based professionals use ikeGPS products to modernize the way measurements are taken and shared.
Spike, a laser accurate Smartphone measurement solution, and GE MapSight, an all-in-one customizable field data collection solution, uniquely combine intelligent software and hardware into comprehensive but simple-to-use tools. With an ike photograph, you can capture measurement, distance, location and other data in real time, significantly improving business process, user productivity and safety.
ikeGPS is headquartered in Wellington, New Zealand and is listed on the New Zealand Stock Exchange under the stock symbol IKE. The company's sales and marketing organization is based in Broomfield, Colorado, which supports global efforts in the Americas, EMEA, and APAC. For more information, visit http://www.ikegps.com.
GE is a trademark of General Electric Company and is under license by ikeGPS Ltd, 42 Adelaide Road, Wellington 6021, New Zealand.