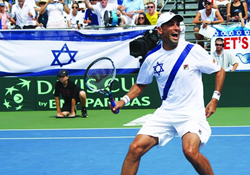 New York, NY (PRWEB) May 13, 2015
Israel Tennis Centers, one of the largest social service programs for children in Israel, announced today a partnership with ITC alum and Wimbledon, French Open, and Australian Open champion Andy Ram. It will focus on Andy's new Pulse Play, a wearable device that allows players to track and record their games without interrupting game play and gives them the capability to turn their phone or tablet into a digital scoreboard and announcer.
Over the past year, Andy helped design and build Pulse Play, a small, inexpensive wearable that brings the professional experience of playing racket sports to amateur players around the world. This wearable will sync game information to the players' online profiles, where they will be able to access global rankings, game history, and other match statistics.
As one of more than a half million children who has come through the ITC's doors and walked out a champion…both on the court and off, Andy is fully aware of the role that the Israel Tennis Centers has played in his life. As a result, he will be offering prototypes to the ITC children along with on court demonstrations. All donors, staff, and students will have the first chance to use the Pulse Play and rank within the platforms scoring system.
This is a full circle experience for Andy Ram, who was trained by ITC Coach Ronen Moralli at the Israel Tennis Centers in Jerusalem. Andy's career included 36 doubles finals and a Davis Cup record of 17-7. Most matches were with partner Jonathan Erlich. Together, they are affectionately known throughout Israel as "AndiYoni".
"I'm very pleased to be partnering with the Israel Tennis Centers, a place where I learned my forehand, backhand, and irreplaceable life lessons," stated Andy Ram, CEO of PULSE Play. "Since retiring, I've realized the need for a technology overhaul of the game. With Pulse Play, users will now have some of the key opportunities I had throughout my career, including being able to see where they stand in the global rankings."
The Pulse Play start-up officially launched to the world on April 28 and the Israel Tennis Centers family has been given exclusive early access to rewards ranging from specially priced Pulse Plays to backstage access to the U.S. or French Open with Andy himself in attendance. Visit Pulse Play at http://bit.ly/pulseplayandy for more information. And for more on the Israel Tennis Centers please visit http://www.israeltenniscenters.org.
ABOUT THE ISRAEL TENNIS CENTERS FOUNDATION
The Israel Tennis Centers Foundation (ITC) is a 501 (c) 3 not-for-profit organization that works tirelessly through the medium of sport to enhance the development of Israeli youth. Since opening its first center in Ramat Hasharon in 1976, the ITC has helped almost a half million children, many of whom come from outlying development towns throughout Israel. The ITC's 14 centers stretch from Kiryat Shmona on the Lebanese border in the North to Beer Sheva bordering the Negev Desert in the South. http://www.israeltenniscenters.org.
Contacts:
Jacqueline Glodstein
ITC Vice President/Global Development
212-784-9201
jglodstein(at)israeltenniscenters(dot)org
Richard Weber
ITC Global Director of Marketing
212-784-9202
rweber(at)israeltenniscenters(dot)org