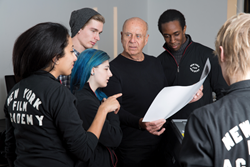 "My enthusiasm for joining the New York Film Academy is predicated on my personal explorations into video as well as a sense of responsibility to share my extended experience of photography with committed students in both mediums." - Ralph Gibson
New York, NY (PRWEB) May 12, 2015
New York Film Academy is honored to announce that legendary fine art photographer Ralph Gibson has been appointed Chair of the Department of Contemporary Photography. Mr. Gibson is best known for his isolated fragment of objects ranging from architecture— to the figure—rendered to a high degree of abstraction. His black-and-white images are instantly recognizable by millions of his admirers who also collect his photographs and published books. Gibson's work is included in over 150 museum collections around the world and he has published over 40 monographs.
Gibson's addition to the New York Film Academy will further enhance the student's remarkable opportunity to study under award-winning, professional photographers who remain active in many genres of photography, from fine art to fashion, commercial work to photojournalism. "Our institution is not simply interested in producing the competent photographer, but the artist who possesses a voice that will make his or her work immediately recognizable, and this is where Ralph will be a tremendous asset to our photography program," states the New York Film Academy's President, Michael Young. He continues, "In addition to Ralph teaching Master Classes at our New York, Los Angeles, and Miami campuses, he is opening his New York studio for students individually, which is an incredible experience for young artists."
"Now more than ever there is even less conceptual space between still photography and video in the current digital environment," stated Gibson. "My enthusiasm for joining the New York Film Academy is predicated on my personal explorations into video as well as a sense of responsibility to share my extended experience of photography with committed students in both mediums." Mr. Gibson, along with the distinguished roster of faculty at the New York Film Academy, heighten the Photography School's focus by preparing students to apply their passion in a hands-on classroom experience and in their curriculum coursework.
Ralph Gibson studied photography while in the US Navy before attending the San Francisco Art Institute and working as an assistant to both FSA photographers Dorothea Lange and filmmaker Robert Frank on two separate films. Gibson holds two Honorary Doctorate degrees and his awards include fellowships from the John Simon Guggenheim Foundation and the National Endowment for the Arts, as well as the Leica Medal of Excellence, the Lucie Lifetime Award and the Silver Plumb Award. He is a Commandeur de l'Ordre des Arts et des Lettres of France, and this spring Gibson was honored with the Guild Hall Academy of the Arts Lifetime Achievement Award. This September, the Mary Boone Gallery will present his most recent work entitled Political Abstraction.
New York Film Academy Photography Programs
NYFA offers several tracks in photography: one-year conservatory programs (offered in our NY, LA, and South Beach campuses) as well as MFA & BFA in Photography degree programs (offered exclusively at our Los Angeles and South Beach campuses) all of which provide state of the art equipment, as well as incredible backdrops against which to shoot original images. All conservatory course credits are transferable toward the degree programs.
In addition, all MFA, BFA, One and Two Year Photography Programs include a state-of-the-art Canon or Nikon HDSLR camera to keep, and an optional exotic one-week photography exploration of an exciting locale.
About the New York Film Academy
New York Film Academy is accredited by the National Association of Schools of Art and Design (NASAD) and provides students with a variety of options to access a performing and visual arts education. With locations all around the world, the New York Film Academy has grown into an international film and performing arts school with a focus on learning by doing, providing its students with hands-on instruction. Students can choose to enroll in one of the Academy's MFA, MA, BFA, BA, and AFA degree programs and short-term workshops in filmmaking, acting for film, photography, producing, 3D animation, cinematography, screenwriting, documentary filmmaking, game design, digital editing and more.
With more than 6,000 students from 108 countries this past academic year, NYFA offers courses all around the world, including New York City, Los Angeles, South Beach, Abu Dhabi, Sydney, Gold Coast/Queensland, Florence, Paris and more.
Photographs of Mr. Gibson's work are available upon request.