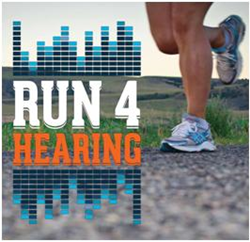 He's a phenomenal kid that proves there is no such thing as a handicap.
(PRWEB) May 13, 2015
On May 9, 2015, Justin Osmond completed a 250-mile run in order to raise money to provide 25 deaf children with hearing aids. Over a period of 8 days, Justin ran 37 miles per day, battling wind, rain, and snow. Justin ran from Ephraim, Utah, to St. George, Utah, with his family trailing behind him in an RV. Justin's aunt, Marie Osmond, joined in his run on the last day showing her support for her extraordinary nephew. "I'm so proud of my nephew," Marie Osmond said. "He's a phenomenal kid that proves there is no such thing as a handicap."
The main goal of Justin's trek was to raise awareness for deaf children. Hearing loss runs in Justin's family, and Justin himself was diagnosed at the age of 2 with a 90% hearing loss in both of his ears. Justin ran with the support of Run 4 Hearing, a program of The Olive Osmond Hearing Fund, which was started in honor of Justin's grandmother, Olive Osmond. The Olive Osmond Hearing fund, founded in 2010, has provided thousands of hearing aids to the hearing impaired around the world.
When Justin crossed the finish line on the 8th day, he burst in to tears and joined in on the "Super Hear-O" fun run to celebrate his accomplishment. Justin trained for 9 months prior to beginning his run and, through all of his efforts, raised enough money to provide 25 deaf children with the gift of better hearing. Oticon Hearing Foundation donated state-of-the-art hearing aids to the children. They also donated FM systems that allow the children to hear their teachers in the classroom more effectively.
John Sorensen and North American Health Care are proud to have sponsored this campaign.
To see more about Justin's amazing trek or to donate please visit http://www.run4hearing.com/#!justins-250-mile-run/c1o0n
About North American Health Care
The goal of North American Health Care, Inc., is to post-acute facilities in providing five-star patient services for every person served. Client facilities' ratings reflect the organization's commitment to excellence in patient care, which includes the desire to provide every individual serviced a dignified experience.
About Olive Osmond Hearing Fund
The Olive Osmond Hearing Fund is a nonprofit organization whose goal is to raise awareness around the country. The foundation has helped over 2,000 children receive the gift of hearing. Supported by many volunteers and donors around the world, the foundation partners with businesses and organizations to continue to raise awareness and funding to help millions living of people with a hearing loss.