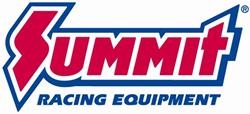 Tallmadge, OH (PRWEB) May 14, 2015
Enthusiasts can now lay down an affordable, professional-quality paint job at home and meet stringent environmental standards with Summit Racing's 2.8 VOC Single Stage Acrylic Paint System. Available in 49 colors from basic black to Sublime green, this acrylic urethane paint meets 2.8 VOC emissions standards in all 50 states.
More importantly, Summit Racing 2.8 Low VOC Acrylic Paint System provides a premium finish with exceptional durability that far surpasses enamel-based systems. The paint also resists damage from UV exposure, chemicals, weathering, and stone chips.
Summit Racing 2.8 VOC Single Stage Acrylic Paint System mixes at a 4:1 ratio with activator, eliminating the need to calculate the proper mix. The flash time between coats is just minutes and the paint dries in less than an hour. That makes it perfect for the home painter.
Summit Racing 2.8 VOC Single Stage Acrylic Paint System also includes a full line of primers, sealers, reducers, hardeners, and surface prep products formulated for use with the basecoat paint—no worries about incompatible components ruining a paint job. Summit Racing also has satin and high-gloss clearcoats for extra protection and even more shine.
Summit Racing also offers Hot Rod Flat 2.8 VOC Single Stage Paint. It is available in 13 colors, including military colors for the off-road crowd. The Hot Rod Flat paint mixes in the same 4:1 ratio and uses the same chemistry as the 2.8 VOC Single Stage Acrylic Paint.
OnAllCylinders, Summit Racing's all-things-gearhead blog, has a good article on low VOC paint and how it works--it's worth a read.
Summit Racing Equipment
http://www.SummitRacing.com
1-800-230-3030