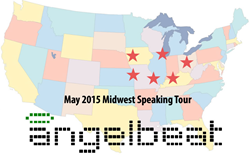 iScan enables us to calculate the risk from a data breach for any business the same day, instead of in weeks or months
Plano, TX (PRWEB) May 13, 2015
iScan Online, the premiere provider of data breach risk intelligence, announced today that co-founder and President Billy Austin would be sharing how organizations can put a dollar value on their data breach risk during the Midwest leg of the Angelbeat tour. By knowing their security number, executives can financially prioritize data breach risk for decision-making.
iScan will begin the tour in Des Moines, IA on May 19th with Torus Technologies, a premier provider of security services headquartered in the Iowa City region.
What's a Security Number?
The "Know Your Security Number" presentation addresses the need for security managers, executives and board members to understand their financial risk in real-time before a breach occurs. Attendees will have the opportunity to learn first-hand how to create actionable intelligence encompassing sensitive data and detected threats, and produce reports/analytics showing:

Financial liability exposure reports that speak the language of C-level executives and board members
Clear prioritization of where to invest IT resources to prevent breaches and maintain shareholder value
Metrics that substantiate/validate efforts to mitigate the impact of a breach.
Calculations to help evaluate cyber security insurance
The Three Questions Businesses Need to Ask
Angelbeat attendees will also learn the three most important security questions, and how to can get answers.

What data is at risk & who has access to it?
What vulnerabilities will attackers use to get unauthorized access?
What's the financial impact from a data breach?
Real Cases from Partner Torus Technologies
Torus Technologies will discuss how the businesses they serve are finding their security number using iScan Online today. "We have a reputation for being the go-to security services provider in and around the state of Iowa because we are equipped to address so a wide range of scenarios. Partnering with iScan enables us to calculate the risk from a data breach for any business the same day, instead of in weeks or months," explains Jamie Molony, Managing Partner at Torus Technologies. "In fact, our clients are pretty blown away by how fast they start seeing results with iScan Online."
Angelbeat Tour
iScan will also be appearing in Kansas City, Louisville, Columbus, Chicago and St. Louis between May 18th and May 29th. The full schedule with links to register are available from iScan Online at http://events.iscanonline.com/iscan-angelbeat.
About iScan Online
What's your security number? iScan Online is the industry's first data breach risk intelligence platform that puts a real-time dollar number on an organization's security risk. iScan's patented discovery process uncovers sensitive data and vulnerabilities, and financially prioritizes the results in reports that speak the language of the C-suite. Now CISOs can make informed resource decisions and educate board members on the impact of security initiatives.
To find out more information about iScan Online, visit https://www.iscanonline.com
About Torus Technologies
Torus' information security strategy addresses the security and regulatory compliance needs of complex network environments for businesses, government agencies, and academic institutions. As a result, customers get effective solutions that identify their applications, safeguard those applications, and secure data and network infrastructures from advanced cyber threats.
To find out more information about Torus Technologies, Inc., visit http://www.torusinc.com