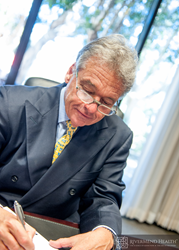 RiverMend Health is extremely proud that Dr. Mark Gold, Chairman of our Scientific Advisory Boards, has been honored by ASAM for his pioneering work in the field of addiction medicine.
Atlanta, GA (PRWEB) May 12, 2015
RiverMend Health, LLC, is pleased to announce that Mark S. Gold, MD, FASAM, has been honored by The American Society of Addiction Medicine (ASAM) with the John P. McGovern Award. The McGovern Award recognizes and honors an individual who has made highly meritorious contributions to public policy, treatment, research, or prevention which has increased understanding of the relationship of addiction and society.
"RiverMend Health is extremely proud that Dr. Mark Gold, Chairman of our Scientific Advisory Boards, has been honored by ASAM for his pioneering work in the field of addiction medicine. We are privileged to partner with renowned experts like Dr. Gold to provide unparalleled evidence-based treatment to those suffering from addiction, eating disorders and obesity," said Monica Demitor, Chief Executive Officer, RiverMend Health.
Dr. Gold is a translational researcher, author, and inventor best known for his state-of-the-art work on the brain systems underlying the effects of opiate drugs, cocaine and food. He was the first Editor of Addiction Medicine for Up To Date and the author of many practice guidelines, ASAM papers and texts for clinicians. According to by National Institute of Drug Abuse (NIDA) founding director Robert DuPont, M.D. in a review in the Journal of the American Medical Association (JAMA 272:18, 1996), "Mark S. Gold, M.D. the most prolific and brilliant of the addiction experts writing today... Dr. Gold has spent his career trying to bridge the gap in medical education and practice with the belief that addictions are diseases and that all physicians have a critical role in prevention and, if that fails, in early identification and prompt treatment."
"Dr. Mark Gold has been one of the voices and leaders in addiction medicine for the past 30 years. Not only has he made contributions front bench to bedside but in addition he has mentored numerous physicians and has been involved in the training of countless addiction medicine experts and has touched their lives in so many positive ways. His contributions in research, treatment and education continue to the touch the lives so many people afflicted with addictive disorders. He is a true champion in the field of addiction medicine," said Scott A. Teitelbaum, M.D., FAAP, FASAM, Professor and Vice Chair of the Department of Psychiatry, Chief of the Division of Addiction Medicine at the University of Florida College of Medicine and Medical Director of the Florida Recovery Center.
Dr. Gold accepted his award during a special lunch at the 46th ASAM Annual Conference on April 25, 2015. As the John P. McGovern Award recipient, Dr. Mark S. Gold delivered the 2015 lecture on Addiction and Society during the Awards Luncheon: "From State Dependency to Clonidine to Dopamine to Second Hand Smoke to Food Addiction: My Career In Translational Research From 1972." Currently, Dr. Gold is an Adjunct Professor of Psychiatry at Washington University in St. Louis and the Chairman of the Scientific Boards for RiverMend Health.
To learn more about Dr. Gold visit RiverMend Health's website. For more information on the McGovern Award visit http://www.asam.org/docs/default-source/pressreleases/mark-gold-md-fasam-honored-with-john-p-mcgovern-award-2015-04-25.pdf?sfvrsn=2 .
About RiverMend Health
RiverMend Health is a provider of scientifically driven, specialty behavioral health services to those suffering from alcohol and drug dependency, dual disorders, eating disorders, obesity and chronic pain. Founded on the belief that addiction and obesity are the nation's most pressing healthcare challenges, the company brings together the world's preeminent experts and a network of rehabilitation facilities to provide neuroscience-driven treatment and holistic care, research and education. Learn more about RiverMend Health at http://www.rivermendhealth.com or call (877)879-3312.
###