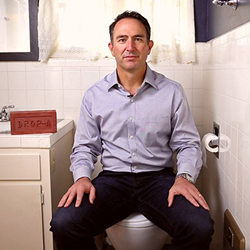 We want to be a part of the solution in our markets that have been impacted by the drought.
San Francisco, CA and Oakland, CA (PRWEB) May 13, 2015
Waypoint Homes has partnered with The Drop-A-Brick Project, a multi-agency collaboration committed to addressing the water crisis in California. Together, the companies are promoting a product called "Drop-A-Brick" – a lightweight, brick-shaped invention made of natural rubber, designed to make toilets more efficient when placed in the top water tank. The Drop-A-Brick Project launched its original campaign in the fall of 2014, and the corporate partnership with Waypoint Homes is the first to take shape.
Waypoint Homes launched its Drop-A-Brick campaign on Earth Day (April 22nd), investing in bricks in California and encouraging all residents and employees to purchase or donate a Drop-A-Brick. "We want to be a part of the solution in our markets that have been impacted by the drought," said Doug Brien, CEO and Co-Founder of Waypoint Homes. "By raising awareness with this program, we're offering an easy way for our communities to consume less water and lower their water bills. We hope that other companies will follow our lead."
The partnership with Waypoint developed when Brien connected with the creative team behind the Drop-A-Brick movement, a collaboration between barrettSF, Level2 Industries, Pre-Future and Tube Media International. Jamie Barrett, Creative Director and Founder of barrettSF, has known Brien for years. "Doug and I share the same drive for preserving California's water supply," said Barrett. "Waypoint Homes is an ideal partner because of their strong sense of mission to 'Do the Right Thing' in promoting sustainable best practices."
The companies view this partnership as just the beginning. "With Waypoint leading the way, we hope that other organizations will be encouraged to incorporate Drop-A-Brick as part of their sustainability efforts," said Greg Hadden, Founder and Executive Producer at Tube Media International.
For Media Inquiries: [email protected]
To purchase or donate a Drop-A-Brick go to: http://www.dropabrick.org
To learn more about how your organization can partner with the Drop-A-Brick Movement please reach out to: [email protected]
###
About Waypoint Homes: Based in Oakland, California, Waypoint Homes (http://www.waypointhomes.com) acquires, renovates, leases, maintains and manages single-family homes. Waypoint's mission is to be the premier provider of single family rental homes in America. The company aims to do this be providing an easy, rewarding rental experience for residents, an entrepreneurial, collaborative environment for team members, superior returns for investors, and enhanced neighborhoods and volunteer support for communities across the country. Waypoint Homes manages thousands of homes nationwide and continues to expand its business as the consumer brand of Starwood Waypoint Residential Trust (NYSE: SWAY).
About barrettSF: barrettSF (http://www.barrettsf.com) is a start-up based in San Francisco. Founded in late 2012, the agency works with brands such as Rubio's, YP, 2K Games, the Pac-12 Networks and the California Redwood Association. barrettSF is both naïve and optimistic enough to believe that great work can change the world. The agency mission can be summed up in 11 very pronounceable words: "We want to be the best advertising agency in the world."
About Level2 Industries: Level 2 (http://www.l2industries.com) is a San Francisco based product development, invention, and incubation company with a strong concentration in solving global issues through technology, material science and manufacturing. It is the Level 2 mission to create products and structures that are used and recycled in such ways that bring meaning and value to society and the environment. Level 2 manufactures products in their own domestic manufacturing facilities and has created a business model that allows them to scale manufacturing quickly.
About Pre-Future: Pre-Future (http://www.pre-future.com) are digital storytellers for the modern adventurer. Providing solutions to the constantly changing and evolving platforms of all things digital. It is both a production and post-production company that can take a project from inception to delivery and boasts an impressive collective of multi-talented individuals. From idea conception to writing, shooting, editing, VFX, motion graphics, audio and color correction, Pre-Future can provide a comprehensive approach for any production. The creative vision of the Pre-Future team can bring any vision to reality.
About Tube Media International: Founded in 2006, Tube Media International (http://www.tubemediainternational.com) is an award-winning creative consultancy located in San Francisco. We create and produce integrated entertainment, games, products and branded experiences. Our partners/clients tend to appreciate rebellion, new ideas and outrageous reconfigurations about how marketing and branding can act. We work with category-leading brands, ad agencies, startups and non-profits. Everything we do strives to give people powerful reasons to believe and to belong.