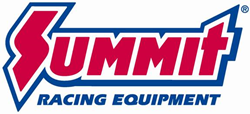 Tallmadge, OH (PRWEB) May 16, 2015
The Ford Performance 427 Aluminum Short Block Assembly is hand-assembled in the U.S. with all-new parts and performance clearances, making it a truly custom-built engine. Just pick the cylinder heads, camshaft, intake, ignition, and other components to build the ultimate small block Ford.
Engine Specifications

Ford Performance aluminum 4-bolt block with steel billet main caps—weighs just 124 pounds
Scat 4.000 inch stroke forged steel crank
Scat forged steel H-beam connecting rods with floating piston pin
Mahle forged pistons and piston ring set, 17cc effective dish volume/.005 inch below deck height nominal
Neutral balance rotating assembly
Hydraulic roller camshaft compatible—requires aftermarket tie bar hydraulic lifters
.060 inch oil galley restrictors included for solid roller cam applications
Uses standard Windsor timing cover
Standard Windsor oil pan flange
Recommended cylinder head fasteners: FMS-M-6065-BOSS head bolts, FMS-M-6014-BOSS studs, or FMS-M-6014-Z304 studs depending on application
Requires FMS-M-6051-R351 head gaskets
The Ford Performance 427 Aluminum Short Block Assembly is designed for aftermarket performance cylinder heads with the factory 20 degree valve angle and either stock or spread valve guide centerlines. It is not designed for production 302/351W-style cylinder heads.
Summit Racing Equipment
http://www.SummitRacing.com
1-800-230-3030