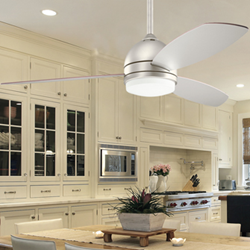 Remember that a ceiling fan is both a style statement and an appliance.
Quechee, VT 05059 (PRWEB) May 19, 2015
A ceiling fan is more than an appliance – it's a design statement. Most ceiling fans are located front and center in the home – dominating the scene in the living room, kitchen, bedroom or patio – so style and function are equally important. Homeowners should think twice before going online or down to the big box store to purchase a ceiling fan that may not be the perfect match for their home's air circulation needs and personal taste.
There are five things to look for when shopping for ceiling fans –
1. Design Options – The simple paddle fan is a thing of the past. Today's ceiling fans come in a variety of styles, finishes and colors – ranging from island style (with palm frond blades), to sleek contemporary, and the incredibly ornate. Find the best local lighting store for the largest selection.
2. Ceiling Fans Can Save Energy All Year Round – Full featured fans with remote or wall mounted controls provide circulating air to create the sensation that room temperatures are about seven degrees cooler. This allows homeowners to set the thermostat at a higher temp in the summer. In winter, the fan blade direction can be reversed to bring warm air down from ceilings, lowering heating bills. Fans with new energy efficient DC motors use 1/3 the energy of a typical fan motor and usually move much more air. New LED light kits use a fraction of the electricity. A ceiling fan expert is the best resource for information about full featured fans, energy efficient DC motors, and LED light kits to save electricity.
3. Manufacturers now are required to report CFM (airflow measured in cubic feet per minute) and energy efficiency data making it easier to compare fan performance. More CFMs are needed for a large or high-ceiling room than a 12x12 bedroom, for example. A dedicated local lighting store has a large range of working ceiling fans designed for a wide variety of functions so the air movement and silent operation can actually be experienced. Ask a local lighting store expert for a ceiling fan demonstration.
4. Special Fan Options – Damp and wet-rated fans for outdoor use. There are specially designed ceiling fans with UL ratings for use in high humidity (damp-rated) or outdoor (wet-rated) areas. Installing a non-rated ceiling fan in a damp or wet location will shorten the life of a fan. Blades will warp and sag and extreme moisture and temperatures will take their toll. Ask a local lighting store professional about ceiling fans with UL Ratings for Damp and Wet-Rated ceiling fans.
5. Lifetime Guarantees – Most reputable ceiling fans come with a limited lifetime warranty on the motor, so homeowners should purchase from dealers who stand behind their products. Blades, controls, and light kits are typically guaranteed only for 1 or 2 years. Most fan manufacturers market a range of fans hitting several price points. A $400 fan has a higher performance motor than a $100 fan. An inexpensive fan may have particleboard blades and thinner housing materials where a middle- to high-end fan will have cast motor housings, solid wood blades and more advanced control systems. Before purchasing, consumers should ask about return policies and warranties.
A ceiling fan is both a style statement and an appliance. Quality, style and performance should all be factored in as part of the decision making process. A wise choice means a good working ceiling fan for years to come.
To find a local lighting store, visit http://www.mylighting-store.com or visit the MyLighting-Store Facebook page.