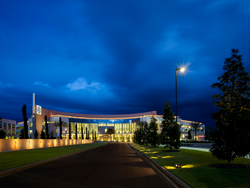 Florida Hospital Wesley Chapel is dedicated to providing the most advanced care for our patients.
Wesley Chapel, FL (PRWEB) May 12, 2015
Florida Hospital Wesley Chapel now offers a minimally invasive procedure that may aid with earlier diagnosis for patients with lung lesions, so those with cancer can get treated as soon as possible and patients with benign conditions can potentially avoid surgery.
The hospital is performing Electromagnetic Navigation Bronchoscopy™ procedures with a device known as the superDimension™ navigation system.
The system uses GPS-like technology to help physicians navigate and access difficult-to-reach areas of the lung where more than two-thirds of all cancers are found. It is a minimally invasive option for patients who are identified as having small or hard-to-reach lesions on their lung.
"The superDimension navigation system is a significant advancement for aiding in the diagnosis of lung cancer and overcomes many limitations of traditional diagnostic approaches," said Martin Britos-Bray, MD, Board Certified in Pulmonology, Florida Hospital Physician Group. "By guiding us through the complicated web of pathways inside the lungs, we're able to access and sample target tissue throughout the entire lung without surgery or a needle biopsy. This technology can aid with earlier diagnoses, which may allow for less invasive treatments for patients with lung cancer."
With this technology, the CT scan images are used to create a roadmap of the thousands of tiny pathways inside the lungs. Then, the GPS-like technology provides a roadmap that allows physicians to guide tiny tools through the lung pathways so they can take tissue samples of the lesion and place markers for future treatment. It is typically an outpatient procedure.
"Florida Hospital Wesley Chapel is dedicated to providing the most advanced care for our patients. This is a perfect example of how new technology can help provide less invasive testing and earlier diagnosis to improve outcomes. This procedure is part of our comprehensive lung program, which we're excited about launching to the community this year," said Denyse Bales-Chubb, Florida Hospital Wesley Chapel President and CEO.
Lung cancer is the leading cancer killer in both men and women in the United States. In 1987, it surpassed breast cancer to become the leading cause of cancer deaths in women1, according to the Centers for Disease Control. Lung cancer causes more deaths than the next three most common cancers combined (colon, breast and pancreatic). The American Cancer Society estimates that 159,260 Americans are expected to die from lung cancer in 2014, accounting for approximately 27 percent of all cancer deaths. 2
Finding the disease early drastically improves survival rates. Early stage lung cancer that is detected, diagnosed and immediately treated has survival rates up to 88 percent compared to the current 15 percent survival rates for late stage lung cancer patients. However this falls to just 1 percent when lung cancer is diagnosed at Stage 4 when it has spread to other areas of the body.
Florida Hospital Wesley Chapel is offering a free seminar about lung cancer symptoms, screenings and treatment including information about the SuperD procedure on August 25th at noon. The seminar is free but pre-registration is required. To sign up for the seminar, visit http://www.FHWCHealthyHappenings.org.
1. Centers for Disease Control and Prevention. National Center for Health Statistics. CDC WONDER On-line Database, compiled from Compressed Mortality File 1999-2010 Series 20 No. 2P, 2013.
2. American Cancer Society. Cancer Facts and Figures, 2014.
3. Source: National Cancer Institute's Surveillance, Epidemiology, and End Results (SEER) database, based on people who were diagnosed with non-small cell lung cancer between 1998 and 2000. http://www.cancer.org/cancer/lungcancer-non-smallcell/detailedguide/non-small-cell-lung-cancer-survival-rates
About Florida Hospital Wesley Chapel
Florida Hospital Wesley Chapel is an 83 all-private bed hospital. Built from the ground-up, this full-service community hospital features expert staff, specialty design and state-of-the art technology built for better patient care. The hospital features state of the art imaging and surgical equipment, much of it first in the region. Services include an emergency department, cardiac care, vascular surgery, orthopedics and sports medicine, women's services and gynecology, obstetrics, urology and nephrology, outpatient imaging, outpatient physical and occupational therapy, The Center for Women's Health and a free-standing Health & Wellness Center. The hospital's Wellness Plaza also houses offices for primary care and specialty physicians. Part of Adventist Health System, Florida Hospital is a leading, not-for-profit health network comprised of 23 hospitals throughout the state. For more information, please visit http://www.FHWesleyChapel.org.