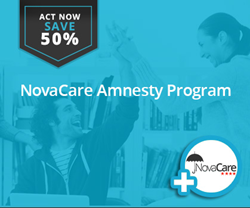 We're so pleased to be in the position to offer all of our backup software users, both present and past, the ability to get current with NovaBACKUP Version 17 technology.
Agoura Hills, California (PRWEB) May 13, 2015
NovaStor, an international provider of award-winning backup solutions, announced the start of a new program aimed at customers with outdated and obsolete versions of NovaBACKUP software. This program provides amnesty to anyone who has allowed their NovaCare support contracts to expire, allowing them to get "back on board" at 50% off cost of a new license. The NovaStor amnesty program offers small and medium-sized businesses a budget-friendly means to get their backup software and support current and protect their critical data using the latest data protection technologies. Users of competing backup solutions are also eligible to receive a sizeable discount towards their purchase of NovaBACKUP products. Users of old NovaStor products simply provide their existing license key on the "What's New" web page, and then receive an exclusive link to a full license of NovaBACKUP 17 at a substantial discount.
With the latest update to their award-winning single-server backup software, NovaBACKUP® Version 17 includes a full year of NovaCare support for all server products, plus an industry-first, with the inclusion of free "Setup Assistance" with remote installation. NovaCare provides users with free product upgrades and updates, which are critical during times when new operating systems are released or older operating systems are retired. Both telephone and email support is provided by NovaStor's team of backup engineers based in the USA with additional support teams in Europe.
"We're so pleased to be in the position to offer all of our backup software users, both present and past, the ability to get current with NovaBACKUP Version 17 technology. The reception we are receiving from the program so far has been one of pleasant surprise from both clients and resellers, that they are able to get a full license with NovaCare support at such a reduced cost" says Mike Andrews, Managing Director at NovaStor.
The NovaBACKUP 17 release has proven to be the most stable and reliable major software release in NovaStor history with high praise coming from industry leaders. NovaBACKUP comes equipped with an all-inclusive feature set, including options for both local and online backup destinations, and support for both physical and virtual environments at a price point that is affordable to small and medium-sized businesses.
NovaBACKUP users who would like to check the eligibility status of their existing license and get up-to-date can do so at Novabackup.com, while NovaStor ValueCreate! Reseller partners can login to the Partner Portal to manage their NovaBACKUP licenses. Not yet a NovaStor partner? Visit http://www.novabackup.com/partner to learn more.
About NovaStor
NovaStor® ( http://www.novastor.com ) is an international provider of powerful, affordable, all inclusive data-protection solutions for physical and virtual environments. NovaStor provides backup & restore solutions to small and medium business (SMB) as well as heterogeneous environments to protect data on both sides of the cloud. NovaStor's SMB solution NovaBACKUP® is rated #1 for businesses requiring local and remote protection of Windows Servers, VMware, Hyper-V and NAS environments with advanced monitoring capability, detailed reporting, and administration from a Central Management Console. NovaStor's network backup solution NovaBACKUP DataCenter brings F500 references, scalability, reliability and speed to heterogeneous environments; a single pane of glass designed to reduce administrative effort and lower TCO. NovaStor' Setup Assistance is an industry first where experts relieve clients from the complexity of installation and support. NovaStor is management-owned with over 1,000 partners, and millions of seats distributed. With global headquarters located in Zug, Switzerland and offices in Germany (Hamburg) and the USA (Agoura Hills), NovaStor is also represented in numerous other countries through partnerships.