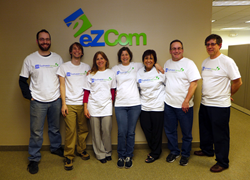 We support so many footwear manufacturers and retailers, it seemed especially fitting to participate in Footwear Cares.
Englewood, NJ (PRWEB) May 14, 2015
Sometimes, all it takes is a few small steps to get people back on their feet. On April 14 and 28, as part of the Two Ten Footwear Foundation's month-long Footwear Cares community outreach initiative, volunteers from eZCom Software (maker of the EDI application, Lingo) volunteered to prepare over 200 meals at Toni's Kitchen for the Brother to Brother/Sister to Sister Program in Montclair, NJ. The school-anchored mentoring program assists local at-risk adolescents with a healthy dinner and fosters safe, nurturing, and positive relationships between adult mentors and program participants to support academic and social excellence.
Two Ten organizes its month-long Footwear Cares volunteerism drive every April 'to get people back on their feet.' During the Footwear Cares campaign, thousands of volunteers representing 110 footwear industry companies participate in community service projects focused on changing lives for the better. For example, over the course of April 2014, Footwear Cares volunteers made half a million meals available to vulnerable populations; distributed over 12,000 shoes and outfits to low-income children; and enhanced 100 acres of land and parks through environmental projects across the nation.
We support so many footwear manufacturers and retailers, it seemed especially fitting to participate in Footwear Cares
As an EDI application provider serving dozens of footwear manufacturer customers, Two Ten's outreach goals resonated with the team at eZCom software. "At eZCom, our customers are like family," explained Adele Rosenblum, Business Developer at eZCom and Footwear Cares volunteer. ". In addition, we were really excited to give back to our local community working with Toni's kitchen. The opportunity to provide support for local teens in a meaningful way truly inspired our team. It has motivated me and others at eZCom to look for additional ways we can provide local aid."
"Footwear Cares 2015 afforded us the opportunity to work with a good number of new companies on volunteer initiatives," said Maureen Lederhos, Director of Marketing for Two Ten Footwear Foundation. "eZCom was one of those enthusiastic companies that celebrate footwear philanthropy and understand the importance of giving back to help people get back on their feet. We were delighted to benefit from their time and talent and look forward to having them join us again next year."
Two Ten is a charitable foundation offering Financial Assistance, Counseling, Community Resources and Scholarships to those working in the footwear industry. Two Ten charges no fees and requires no membership to benefit from their services. Additionally, Two Ten offers many opportunities for Community Building within the footwear industry, such as Footwear Cares. These include events, community service projects and online resources. Some recent statistics include the following:

In 2014, Two Ten fielded more than 2,144 calls and provided more than $1.5 million in financial assistance to shoepeople in need.
Two Ten provides emergency financial assistance for individuals in the footwear industry, sending financial help within 48 hours of the first call.
Since its scholarship program was started in 1969, Two Ten has made it possible for 5,735 students to go to college, and has given out over $18 million in scholarships in that time.
For more information about Footwear Cares and Two Ten, contact Kaitlyn Butler at [email protected] or visit http://www.twoten.org/footwearcares.
Toni's Kitchen is a food ministry at St Luke's Episcopal Church in Montclair which welcomes everyone for hot nutritious meals without screening for income or need. Toni's Kitchen, which is named after its first cook, Antoinette "Toni" Green, has been in continuous operation as a non-profit, charitable entity under St Luke's Church since its founding in 1982. In addition to the Brother to Brother/Sister to Sister teen mentoring program, Toni's Kitchen offers a wide range of services to its guests including meals, health and wellness programs, skills training opportunities, and connections to supportive services in the broader community. To learn more about Toni's kitchen, please contact [email protected], call 973 932-0768, or visit http://tk.slechurch.org/.
Founded in 2000, eZCom Software provides cloud-based B2B supply chain software solutions—including the easy-to-use and streamlined EDI solution, Lingo. eZCom's Lingo simplifies and speeds the trading process, while the eZCom customer service team exceeds expectations from first inquiry through implementation and sales growth. Every member of the eZCom Customer Support Team is a trained and highly knowledgeable EDI professional. Each works on-site at the corporate headquarters in Englewood, NJ to provide customers with unlimited, individualized, and highly effective education and problem solving throughout the EDI process. For more information about eZCom, please contact Adele Rosenblum at [email protected], call 201-731-1800, option 1; or visit http://www.ezcomsoftware.com. For press inquiries, please contact Isabel Smith at [email protected]