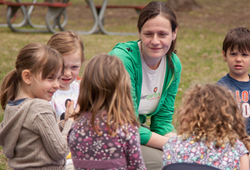 Tinkergarten's growing workforce of diverse, talented and passionate women and men with flexible schedules, many of whom are parents themselves, are helping families play outside while learning new skills in communities everywhere.
Brooklyn, NY & Northampton, MA –
(PRWEB) May 18, 2015 -- Tinkergarten® provides the best early childhood education in the healthiest classroom of all—the outdoors. The company matches families with leaders in their local community who offer activity-based kids classes that help them develop the skills that matter most—all while having fun!
Tinkergarten® is not a typical after-school or extracurricular activity; its unique program and technology enables local entrepreneurs to start and operate their own "satellite" of Tinkergarten® in their local community. Classes take place in green spaces where leaders, parents, and kids meet up to spend time each week doing hands-on activities that are engaging, educational, and fun for everyone.
A proprietary technology platform helps recruit and remotely train leaders, then provides them tools for marketing and managing local classes. Leaders can customize curriculum, communicate with parents about logistics and learning, and even share photos from class with families via their mobile phones. Tinkergarten® also allows parents to keep track of the activities and skills their child is gaining, and share photos of their experiences.
Classes are led by active community members, often parents, who are selected, trained, and then become part of a tight-knit team. Leaders get access to online tools, curriculum, and ongoing training and support as well as materials to run their local operation. Anyone, anywhere can apply to become a leader and bring Tinkergarten® to their community.
Tinkergarten® was founded by Brian and Meghan Fitzgerald, technology and education veterans with three children of their own who felt compelled to put their parenting, educational and entrepreneurial backgrounds to use. They have created a new way to allow children the time and space to tinker, play, make, experiment, and take risks in an outdoor environment, leading to the most impactful and healthiest expression of early childhood education.
Tinkergarten® classes are currently being offered in selected communities throughout the New York Metro area, including Manhattan, Brooklyn, Westchester, northern New Jersey, and southern Connecticut, and will begin to expand nationally this summer.