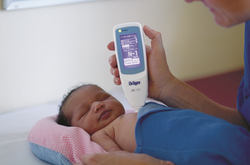 We have found the Draeger transcutaneus meters enable the accurate and timely identification of neonatal jaundice.
TELFORD, Pa. (PRWEB) May 14, 2015
Draeger today announced the release of its next-generation Jaundice Meter, JM-105, a non-invasive bilirubinometer that provides fast, accurate, cost-effective and pain-free jaundice screenings for newborns. JM-105 can be used on children as young as 35-weeks' gestational age.
According to the Centers for Disease Control and Prevention, approximately 60 percent of full-term infants will develop jaundice within a few days of birth [1]. While it is relatively common, jaundice is a serious issue that can lead to permanent brain damage if not treated. Traditionally, hospitals would use visual screenings and painful heel-stick blood tests to determine whether a newborn has jaundice. Not only were these processes far from accurate, but they would cause a lot of anxiety for parents and discomfort to newborns.
The rise of non-invasive transcutaneous bilirubin testing (TcB) changed the way hospitals identified at-risk infants. Draeger's new JM-105 is one of the most advanced transcutaneous monitoring products available, measuring the yellowness of subcutaneous tissue in newborns as young as 35-weeks' gestational age. Providing instantaneous screening of bilirubin results, JM-105 also:

Reduces the risk of infections: JM-105 is non-invasive; its sensor is gently pressed to a newborn infant's forehead while in a hospital; alternatively for babies 14 days of age at physician offices, measurements can be taken from the breastbone to obtain a bilirubin reading. Without the need to draw blood, the JM-105 can help to reduce the risk of infection.
Lessens readmission and length of stays: Bilirubin levels typically peak two-to-four days after birth – after most newborns have gone home. Due to this, jaundiced children are often readmitted for treatment. JM-105 detects at-risk newborns well before they leave the hospital, ensuring immediate treatment and, ultimately, reducing readmission and length-of-stay rates.
Eliminates human error: Nurses or physicians can scan, measure, save and transfer patient data right from the device – eliminating time-consuming, manual transcription that often leads to human error.
Enables faster decision-making: With quick access to patient data in one place, physicians and nurses can make faster treatment decisions based on accurate, timely information.
Creates cost-effective testing practices: JM-105 reduces the frequency of costly lab tests and because it has a reusable probe, it eliminates the need for expensive disposables.
"I have been involved with newborn hyperbilirubinemia screening programs in both Calgary Alberta and Saskatoon Saskatchewan. We have found the Draeger transcutaneus meters enable the accurate and timely identification of neonatal jaundice," said Dr. Martha Lyon, clinical biochemist, Royal University Hospital in Saskatoon, Canada. "By implementing the screening program with the Draeger meters, we were able to identify at risk babies earlier and we saw a significant reduction in the number of babies with critical bilirubin levels."
"The first days of a newborn's life are both joyous and extremely stressful for parents, relatives and caregivers, which is why Draeger has spent 30 years developing neonatal technology to treat the unique needs of our smallest patients," said Edwin Coombs, RRT-NPS, FAARC, marketing director for intensive and neonatal care at Draeger Medical, Inc. "The JM-105's accuracy and speed of bilirubin screenings allows healthcare professionals to quickly identify at-risk infants and start critical treatment faster – sometimes even days earlier."
Draeger. Technology for Life®
Draeger is an international leader in the fields of medical and safety technology. Our products protect, support and save lives. Founded in 1889, Draeger generated revenues of around EUR 2.43 billion in 2014. The Draeger Group is currently present in more than 190 countries and has about 13,500 employees worldwide. Please visit http://www.draeger.com for more information.
1 Watson RL., Hyperbilirubinemia, Crit Care Nurs Clin North Am. 2009 Mar; 21(1):97-120.