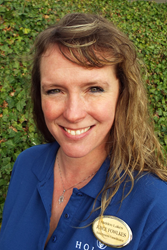 LAKE OSWEGO, Ore. (PRWEB) May 13, 2015
ALFA, the national association for operators of senior living communities, recently announced the winners of its 2015 Hero Awards, naming Holiday Retirement's Joyce Fowlkes as one of five recipients. The award, which is the result of an open nationwide vote, recognizes exceptional role models in the senior living industry. This is the second consecutive year that a Holiday Retirement associate has received a Hero Award.
Fowlkes is an enrichment coordinator at Holiday Retirement's Hidden Lakes community in Salem, Oregon. As enrichment coordinator, Fowlkes oversees the community's activities program. Community manager Tony Pete nominated Fowlkes for her exceptional integrity and dedication to Hidden Lakes' residents.
Fowlkes started with Holiday Retirement in March 2012 and has grown her community's enrichment program immensely from her first day on the job. Since becoming the enrichment coordinator at Hidden Lakes, she's inspired residents to start reading programs with two local elementary schools, actively volunteer with the South Salem Senior Center, and get involved with Habitat for Humanity.
"Not only is Joyce an inspiration to residents, but she offers activities that help them stay active and engaged in the community," said Kai Hsiao, Holiday's president and CEO. "She has grown Hidden Lakes' Seniors Serving Seniors program to where nearly 100 residents participate in various volunteer programs. Her commitment and focus on excellence personifies what the Holiday Touch is all about."
Weeks before the official announcement, ALFA surprised Fowlkes with the news of her win at work. See the video here: https://www.youtube.com/watch?v=XLaFW6JOAWM&feature=youtu.be
Fowlkes was officially honored during an awards luncheon on May 6 at the ALFA 2015 Conference and Expo. Television legend Ed Asner was on hand to congratulate the award recipients.
Recipients of the Hero Award are an inspiration to the residents they serve. "The 2015 ALFA Heroes highlight the great work done every day in senior living communities throughout the states and across the nation," ALFA President and CEO James Balda said. "It's thanks to people like them that more Americans are choosing to call senior living home."
About ALFA Heroes
The Hero Awards recognize ideal representatives of those serving in senior living communities who champion quality of life for the residents they serve and embrace the resident-centered philosophy of senior living. This year, 15 finalists were selected from nearly 300 nominations. Of the 15 finalists, the five winners were based on popular vote from residents, families, employees, and the general public who cast more than 18,000 votes.
About ALFA
Since 1990, ALFA has advocated for choice, accessibility, independence, dignity, and quality of life for all seniors. ALFA's programs promote business and operational excellence designed to foster innovation and entrepreneurism in the field of senior living. Visit ALFA's website at http://www.alfa.org.
About Holiday Retirement
Based in Lake Oswego, Ore., Holiday Retirement invented the concept of independent senior living in 1971 and is one of the largest providers in North America today with more than 300 retirement communities throughout the United States. Holiday Retirement is in the business of providing security, comfort, and value to independent seniors seeking a fulfilling lifestyle in a welcoming environment. For more information about Holiday Retirement, please visit http://www.holidaytouch.com.
###
Contacts:
Brian Fawkes
Holiday Retirement
971-245-8337
brian(dot)fawkes(at)holidaytouch(dot)com
Molly Koch
Communications Strategy Group
720-726-5435
mkoch(at)csg-pr(dot)com