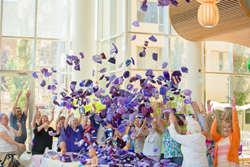 "We're so incredibly proud to win a Best of the Best award for 2015," said Kai Hsiao, Holiday's president and CEO. "We knew the partnership with CLICK for Babies was a strong fit for our Seniors Serving Seniors and Society programs, which urges our reside
Lake Oswego, Ore. (PRWEB) May 13, 2015
In 2014, Holiday Retirement partnered with a grassroots campaign called CLICK for Babies, which is organized by the National Center on Shaken Baby Syndrome. The goal of the CLICK for Babies campaign is to educate new parents and family members about the Period of PURPLE crying – the phase during a newborn's growth that generally exhibits increased crying and is most likely to elicit frustration from parents.
Holiday's partnership with CLICK for Babies was recently recognized by ALFA, the national association for operators of senior living communities, and was awarded a Best of the Best award for 2015.
The Best of the Best award is intended to recognize innovative new programs and services that are creating the future of senior living. The awards, which acknowledge anything from advances in senior living company's sales and marketing efforts to improvements in resident and family engagement, are decided upon by an expert panel. Holiday's involvement with the CLICK for Babies campaign was one of nine Best of the Best winners for 2015.
"We're so incredibly proud to win a Best of the Best award for 2015," said Kai Hsiao, Holiday's president and CEO. "We knew the partnership with CLICK for Babies was a strong fit for our Seniors Serving Seniors and Society programs, which urges our residents to get involved in volunteer work, but being recognized by an organization as reputable as ALFA is an added benefit for which we are very grateful."
The National Center for Shaken Baby Syndrome is equally honored by the award nomination. "As a nonprofit organization dedicated to the prevention of Shaken Baby Syndrome (SBS), our primary focus will always be educating people on the danger of PURPLE crying, the period of an infant's life where crying increases along with the risk of SBS, so the more people we can reach and inform, the better," said Brian Lopez, the National Center for Shaken Baby Syndrome's marketing director. "Our partnership with Holiday and ALFA's award nomination is helping us do that."
Holiday and The National Center for Shaken Baby Syndrome are proud of their joint accomplishments in 2014, but they are looking toward the future. "Our residents and their communities help and support a number of causes and campaigns throughout the year, but this first year with CLICK for Babies was especially powerful for our organization, and we're thrilled to do it again in 2015," said Hsiao.
About ALFA
Since 1990, ALFA has advocated for choice, accessibility, independence, dignity, and quality of life for all seniors. ALFA's programs promote business and operational excellence designed to foster innovation and entrepreneurism in the field of senior living. Visit ALFA's website at http://www.alfa.org.
About CLICK for Babies
CLICK for Babies is a grassroots public education campaign organized by the National Center on Shaken Baby Syndrome (NCSBS) in partnership with hospitals, public health and child abuse prevention groups to create awareness of the leading trigger for infant abuse, frustration with infant crying. More information about the campaign can be found at clickforbabies.org.
About Holiday Retirement
Based in Lake Oswego, Ore., Holiday Retirement invented the concept of independent senior living in 1971 and is one of the largest providers in North America today with more than 300 retirement communities throughout the United States. Holiday Retirement is in the business of providing security, comfort, and value to independent seniors seeking a fulfilling lifestyle in a welcoming environment. For more information about Holiday Retirement, please visit http://www.holidaytouch.com.
###
Contacts:
Brian Fawkes
Holiday Retirement
971-245-8337
brian(dot)fawkes(at)holidaytouch(dot)com
Molly Koch
Communications Strategy Group
720-726-5435
mkoch(at)csg-pr(dot)com