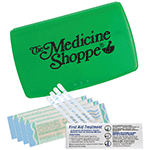 Rapid City, SD (PRWEB) May 13, 2015
Companies looking to promote good health and to market their brand with an ad specialty item people will actually appreciate and use might consider ordering custom imprinted healthcare products through the TradeshowHandouts.com division at BaslerCo Inc.
Custom imprinted healthcare products from BaslerCo Inc's TradeshowHandouts.com division are a great way to promote clean, healthy living and to show concern for the wellbeing of current or prospective customers. The antibacterial gel dispensers are the perfect size for keeping in a purse or briefcase and will be used time and time again, ensuring top of mind awareness.
All custom imprinted products on http://www.tradeshowhandouts.com, including the recently added healthcare product line, are offered at end quantity pricing with a 1 standard color/1 location imprint, but other options are available. These options include imprinting in multiple colors or locations as well as above catalog order quantities. Custom imprinted antibacterial gel dispensers will be used on a daily basis, making them an effective tool for brand marketing and generating new business. Standard turnaround times are seven to ten business days after the final proof approval.
For more information about custom imprinted healthcare items and other quality promotional products, please visit http://www.tradeshowhandouts.com or call (800) 888-8309 to speak to a customer service representative.
TradeshowHandouts.com products include tote bags, mint tins, coolers, lanyards, keychains, coasters, drink ware, healthcare items, household items, and travel accessories. BaslerCo Inc products include regular and die-cut Post-it® Note pads, cubes, flags, pens, highlighters, organizers and dispensers. BaslerCo Inc also provides a variety of unique options such as custom top sheet printing, alternating copy (rotating throughout the pad), second side printing, quick response on large quantity orders and custom sizes. To review additional products, visit us at http://www.baslercoinc.com or http://www.tradeshowhandouts.com