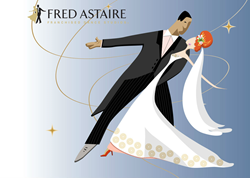 With proper preparation, couples will learn something timeless and romantic that they can perform at their wedding, their 50th anniversary and countless events in between.
Boston, MA (PRWEB) May 13, 2015
With wedding budgets reaching upward of $31,000*, couples are getting more bang for their buck with wedding dances that impress their guests and put the pros to shame. While favors are forgettable and wedding cake is gone in the blink of an eye, a professionally polished wedding dance leaves an impression that a pricey floral arrangement just can't match.
"There are a lot of important details to cover when it comes to dancing at a reception," Fred Astaire Dance Studio owner Casey Baird said. "Choosing the right DJ or band is just the beginning. With proper preparation, couples will learn something timeless and romantic that they can perform at their wedding, their 50th anniversary and countless events in between."
Secrets to Dancing like the Stars
As spring preparation turns into summer wedding ceremonies, the pros at Fred Astaire Dance Studios created this list of critical questions couples must consider when planning for their wedding dance.
What's the wedding date? Most couples need two to three months of instruction and practice so they know the dance automatically without thinking about it.
What is your budget? Wedding dance lessons can cost as little as the average wedding cake to as much as the flowers and decorations, so having an idea of how much money you're prepared to spend will help your instructor plan well.
What dress will the bride wear? Is there a long train? What about shoes and high heels? The couple should practice dancing in wedding clothes so they learn to avoid tripping hazards.
DJ or band? With a DJ, the instructors can make a special cut of the music that makes it easier for a dance. Bands are trickier because performers often play their own song renditions. Couples should practice dancing with the band so they know their dance matches the band's version of the song.
What kind of dance? Fred Astaire Dance Studio pros say most couples pick out their song right away, but they have no idea how to dance to it. Instructors can help craft a dance that works with the song. Or if the couple has a dance style in mind, they can help pick a song to match the dance.
Who will be dancing? Wedding dance lessons aren't just for the bride and groom anymore. Will there be a mother-son performance? Father-daughter? What about the wedding party?
How many guests, and how big is the dance floor? Instructors can map out dance moves so the couple faces the main audience most of the time. They'll plan a dance around the layout of the room, the space and the location of the guests.
Photographer or videographer? Once couples know the dance, they need to meet with photographers and videographers so these pros know where to stand for the perfect shot.
Announcement of the bride and groom? Fred Astaire dance pros recommend couples dance when they first arrive so their guests can enjoy the dance and then move onto food and conversation. Otherwise, guests are caught off guard in the middle of their meal.
How long is the dance? Dance pros say the wedding dance song should be no longer than a minute or two to reduce the stress on the couple. Plus, after two minutes, guests can get antsy and bored.
Cost of items in average wedding budget*
As couples shift more of their wedding budget to reception expenses, wedding dance lessons have emerged as a surprising value compared to other event staples.
Photographer: $2,556
Florist/Decor: $2,141
Videographer: $1,794
Reception/DJ: $1,124
Wedding Dance Lessons: $1,000**
Wedding Cake: $555
Favors: $275
*According to The Knot's 2014 Real Wedding Survey
**According to Fred Astaire Dance Studios
###
About Fred Astaire Dance Studios®
Co-founded in 1947 by the legendary Fred Astaire, our studios set the standard of excellence in dance instruction. Fred Astaire Dance Studios has Ballroom and Latin style dance lessons for all ages and abilities in a fun, friendly atmosphere. Our unique method of instruction will allow you to learn dances from the Foxtrot to Salsa faster and more easily than you could anywhere else. Our mission is to enrich the lives of anyone and everyone who is associated with our company and to become your community dance studio.