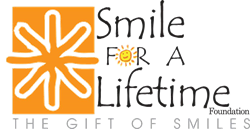 San Francisco, Calif. (PRWEB) May 15, 2015
Smile for a Lifetime Foundation (S4L), attendees of the American Association of Orthodontist's Conference will be able to enter a game of skill, guessing how many M&M's are in a jar, for a chance to win an IPad Air or a $100.00 dollar Starbucks gift card. Stop by our Booth at the Moscone Center in the concourse area.
Each guess and entry also includes an entry into a drawing to win an all-inclusive trip to the Ultimate 2016 Super bowl in San Francisco!
The Ultimate 2016 Super Bowl Experience Includes:

2 Lower Level End Zone Super Bowl Tickets* on February 07th, 2016**
3 nights Hotel in San Francisco/Santa Clara area (Hyatt/Hilton or comparable)
Breakfast each morning
(2) Tickets to the Super Bowl Fan Fest
(2) Round Trip Airfare
Winspire Full time on site staff - Rental Car for the duration of the Event
**Seats can be upgraded to Lower Level Corners to 15 Yard Line for an additional $2,000.00 paid directly to Winspire at time of booking.
About Smile for a Lifetime Foundation
The mission of Smile for a Lifetime Foundation (S4L) is to create self-confidence, inspire hope and change the lives of children in their communities in a dramatic way. The gift of a smile can do all this for a deserving, underserved individual who, in turn, can use this gift to better themselves and their community. During treatment, many S4L local chapters also encourage scholarship recipients to participate in community service through a "pay it forward" program inspiring young people to participate in lifelong giving.
Contact
Michelle Von Fange
Smile for a Lifetime Foundation
4565 Hilton Parkway, Ste. 203
Colorado Springs, CO 80907
mvonfange(at)s4l(dot)org