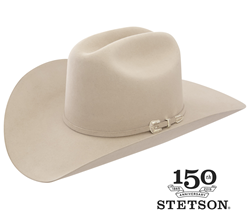 New is not always better. We embrace processes of the past 100 years with 21st century lean processes.
Garland, TX (PRWEB) May 13, 2015
On May 21 2015, Hatco will celebrate 150 years of continuous manufacture of Stetson hats within the United States and accept honors extended by the Texas Manufacturing Assistance Center (TMAC) and the city of Garland during an event beginning at 12 p.m. Thursday, May 21, at its headquarters, 601 Marion Drive, Garland, TX.
"We are honored to be part of the long storied history of the Stetson brand and to celebrate 150 years of iconic history", states Hatco's General Manager Ricky Bolin. "The Stetson brand is well known throughout the world. It is a great feeling of accomplishment to see hats bearing the Stetson name go through our factory crafted by American hands shipped to our retailers and customers."
In addition to the celebration of Stetson's 150 years, Hatco will accept the award for Manufacturing Excellence from TMAC. Hatco has been working closely with TMAC over the last few years in an effort to blend the historically unchanged process of making felt hats with 21st century lean manufacturing methods. "In contrast to most manufacturing processes today, new is not always better. We embrace processes of the past 100 years with 21st century lean processes", states VP of Operations Dan Brown.
In recognition of Hatco's recent renovation efforts on its nearly 80 year old campus, the city of Garland will conduct a ceremonial ribbon cutting to acknowledge the many favorable impacts the Company has made in the community over the years.
Highlights of the day include:

Ceremonial ribbon cutting by City of Garland.
Award presentation by TMAC
Afternoon picnic and activities for employees and appreciation for the contributions by ownership.
About RHE Hatco
Hatco is the leading manufacturer and distributor of well known western headwear brands Stetson, Resistol, Charlie 1 Horse, and Wrangler hats. Comprised of 2 campuses, Hatco is the only vertically integrated fur felt manufacturer in North America. By turning raw fur into hat bodies at their Longview campus, Hatco can truly say their hats are "American Made, Texas Proud", and 100% made of fur, unadulterated with inferior wool filler, a fact that other brands and manufacturers cannot make. Hatco also manufactures and distributes dress and outdoor headwear under the Stetson label and Dobbs label, with the same attention to detail as their western counterparts. The Hatco apparel division designs and distributes under the brands Resistol Ranch, Rancho Estancia, and RU.
By embracing the rich heritage of American hatters and continuing to make hats with equipment from the early to mid 20th century by skilled craftsmen while balanced with 21st century American lean manufacturing, Hatco has created an environment where "the past and the present come alive". To see this unique process Hatco now gives tours to hat wearers, (and soon to be hat wearers) at both their fur felt and straw plants in Garland Texas.