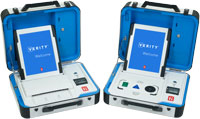 We're excited Verity is the vanguard of election technology that meets not only today's demands, but sets benchmarks for future innovation, said Hart InterCivic President & CEO Phillip Braithwaite.
Austin, TX (PRWEB) May 13, 2015
Hart InterCivic, Inc. announced today the federal U.S. Election Assistance Commission (EAC) has certified Verity™, Hart's newest voting system and election management platform. For years, the main topic of discussion around election technology has been aging equipment. Verity is Hart's response to the market's desire for fresh, innovative technology and choice. Unlike systems that represent continuing evolutions of designs from years ago, Verity is the first all-new, comprehensive system to achieve federal EAC certification to the VVSG 1.0 standard.
"Hart InterCivic is proud to be the leader in election technology," said Hart InterCivic President & CEO Phillip Braithwaite. "True innovation is about more than simply creating one new machine and calling it 'the future'. It's about listening to a decade's worth of feedback from election professionals, and creating a totally new system unlike anything else that exists today."
Verity is a human-centered system designed around the values of usability, adaptability, and transparency. The system instills the utmost confidence that each vote is captured securely and counted accurately, while also ensuring equality of access and privacy for all.
Verity includes the Verity Scan digital scanning device, the Verity Touch Writer accessible ballot marking device, and Verity Central, a scalable high-speed scanning system for by-mail ballots. Verity's modular, convertible design protects customers' investments by delivering a longer product lifecycle and flexibility to adapt to future needs. Hart plans a future release of Verity that will include an electronic voting device (DRE).
Verity also offers modern software that sets new standards for clarity and usability: Verity Build for ballot definition and Verity Count for tabulation, reporting and auditing. Designed with an approachable, plain language style, Verity software enhances productivity and improves the voting experience.
"In a marketplace where hardware often takes center stage, we're equally excited to offer intuitive software that is easy for voters and elections professionals to use," said Director of Product Management Eddie Perez. "With Verity, election technology finally looks like the 21st century."
Verity's key benefits include:

State-of-the-art EAC/AIGA "Design for Democracy" templates for the best voting experience
Faster, more intuitive ballot definition and production, which saves time and reduces cost
An advanced software platform to streamline end-to-end election management tasks
Compact, adaptable hardware that is easy to store, transport, set up and use
Intuitive plain language ballots, for a more efficient voting process and shorter lines
Streamlined ballot adjudication, with unique on-screen digital imaging
Speedy tabulation software, with user-friendly dashboards
Plain-language audit reporting and highly customizable export of Cast Vote Records, for best-in-class transparency
"At Hart, we took bold action on the conversation about aging voting systems," said Braithwaite. "Election officials need to prepare for the 2016 Presidential Election cycle, systems need to be replaced, and elections today are not what they were a decade ago. Customers have been waiting a long time for technology to catch up with their needs. Now that Verity is available, we are seeing strong demand from customers who are excited that their long wait is over. That's why we developed Verity. We're excited Verity is the vanguard of election technology that meets not only today's demands, but sets benchmarks for future innovation."
Hart InterCivic is a full service election solutions innovator, partnering with state and local governments to deliver secure, accurate and reliable elections. Working side by side with election professionals for more than 100 years, we share our customers' dedication to ensuring the sanctity of the vote. Our mission is to help advance democracy one election at a time. This mission fuels our passionate customer focus and our continuous drive for technological innovation that makes voting more straightforward, more equitable and more accessible—and makes managing elections more transparent, more efficient and easier.