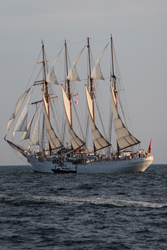 "We are honored that the Elcano is returning to Pensacola. We are one of only two ports in America that the ship will be calling on this year."
Pensacola, FL (PRWEB) May 13, 2015
Spain's renowned naval training ship, the Juan Sebastian de Elcano, will arrive at the Port of Pensacola on May 27 at approximately 9 a.m. for a five-day visit as part of the annual Fiesta of Five Flags celebration.
The Elcano is a four-masted topsail schooner standing at 113 meters, the third largest Tall Ship in the world.
"This ship is not just any ship; it's a very special naval training ship, a floating university," said Maria Davis, honorary vice consul of Spain in Pensacola. "Pensacola is a naval academy town, so naturally, the crew is excited to be coming here."
Once the ship arrives, an informal welcoming ceremony will take place at approximately noon Wednesday, May 27, for the ship's commander, Capt. Enrique Torres-Piñeyro, at the T.T. Wentworth, Jr. Florida State Museum. Expected in attendance are Maria Davis, Ramon Gil-Casares, the Ambassador of Spain to the United States, Pensacola Mayor Ashton Hayward and other local dignitaries and city and military officials.
"Pensacola is very dear to Spain because of our long history," said Davis. "Spain is sending the Elcano here this year to honor the U.S. citizenship of General Bernardo de Galvez, a Revolutionary War hero who won the Battle of Pensacola 234 years ago in May."
Spanish commander Galvez defeated British troops in the Battle of Pensacola on May 9, 1781, reconquering West Florida for Spain and aiding the 13 American colonies in their quest for independence. Each year, Pensacola, which boasts a large population with connections to Spain, celebrates that victory.
The public is invited to attend a formal wreath-laying ceremony to honor Gen. Galvez on Thursday, May 28, at 9:30 a.m. at Fort George. In accordance with Spanish tradition, the Elcano and Corry Station naval bands will both perform. The ceremony also will include the observance of a 21-gun salute and performances of the National Anthem and Taps.
Free tours of the naval ship are available to the public from 10 a.m. to 1 p.m. and 3 to 5 p.m. on Friday and Saturday, May 29-30, and from 3 to 5 p.m. on Sunday, May 31. Tour dates are subject to change. Visit FiestaofFiveFlags.org for updates. The ship will depart Pensacola on Monday, June 1, at 4 p.m.
Adelene Lovelace, executive director of the Fiesta of Five Flags Association, is thrilled the ship will be here to help kick off the 66th Annual Fiesta Days celebration on the night of Wednesday, May 27.
"We are honored that the Elcano is returning to Pensacola. We are one of only two ports in America that the ship will be calling on this year," said Lovelace. "This helps us celebrate our heritage and connections with Spain."
The Juan Sebastián de Elcano was built in 1927 for the Royal Navy. It is named after the Spanish explorer who successfully completed the first ever circumnavigation of the globe from 1519-1522 with Ferdinand Magellan's fleet.
The Elcano last visited Pensacola in 2009 as part of the city's 450th anniversary celebration of the 1559 arrival of Spanish explorer Don Tristan de Luna, marking the first American settlement in Pensacola.
#
About Fiesta of Five Flags
Fiesta of Five Flags was formed to celebrate the founding of Pensacola. In 1559 Spanish Conquistador Don Tristan de Luna established Pensacola as the first European settlement in the United States. Since that time, five different flags have flown over the city: Spanish, French, British, Confederate and American.
Fiesta plans and produces over 20 events throughout the year with the help of a plethora of volunteers. These events are designed to appeal to all ages and interests, as well as promote tourism for the area. Fiesta has always been a significant celebration for the Pensacola Bay Area.
##
About Visit Pensacola
Visit Pensacola leads the effort of economic development through tourism in Escambia County. Comprised of over 200 member businesses, Visit Pensacola's mission is to position the Pensacola Bay Area as a premier year-round travel destination through tourism marketing, communications, meetings and conventions, reunions and group tour initiatives. For more information about Visit Pensacola, call 1-800-874-1234 (toll-free) or go to http://www.VisitPensacola.com.
###