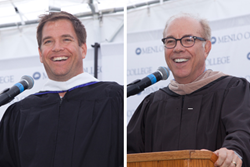 Demonstrate the depth of your passion with persistence
(PRWEB) May 13, 2015
The 2015 Commencement exercises at Menlo College featured two keynote speakers: actor Michael Weatherly, known for his role as Special Agent Anthony DiNozzo in NCIS, and Mark Templeton, CEO of Citrix.
Weatherly, a former Menlo College student said he experienced his turnaround from a mediocre student to a great student in the program at Menlo College. Weatherly noted that Menlo College gave him the "insane gumption to be an actor." His passion for acting evolved watching "practically every film in the collection of the Menlo College Bowman Library."
He encouraged the crowd to find their passion and look to the future, quoting the American writer Joseph Campbell (1904 – 1987), "Because if all you know about yourself is what you found out about yourself, well, that already happened. The self is a whole field of potentialities to come through." He ended with a quote from LL Cool J, "Teamwork makes the dream work."
Mark Templeton, CEO of Citrix, told a poignant story of the ups and downs of life, and how to overcome setbacks. His advice included two strategies:
First, "find your passion in what you do. If you love what you do, you'll never 'work' a day in your life." As an example, he gave his personal story of starting in engineering, trying out product design, and ending up in software. "Software touched my heart," he said.
And "be persistent. Demonstrate the depth of your passion with persistence." He quoted former British Prime Minister Winston Churchill (1874 – 1965), who said, "Never, ever, ever, ever, ever give up.'"
He recalled how Citrix had been setting records on Wall Street when there was a market change, and Citrix missed their expectations and crashed with a 100-point drop. "Setbacks always happen," he emphasized. "Setbacks make us stronger if we let them become opportunities to persist. If your passion is real you'll persist."
Templeton also had some interesting ideas on combining work with life. He called it 'life-slicing.' "You'll never escape life, so make it fun. Combine life and work so that you'll be stellar in life. Treat your colleagues in the workplace like family. Never let hierarchy affect the respect of others. Bring life to work and work to life."
About Menlo College
Menlo College was established in 1927 in Atherton, California as a small, private, non-profit school that focuses on business education with a strong liberal arts emphasis. Located in the heart of Silicon Valley thirty minutes south of San Francisco, Menlo has been named among the "Best Colleges in the West" by The Princeton Review six years running and a U.S. News "Best Regional College" for the last four years. http://www.menlo.edu