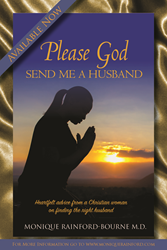 It is my hope that after reading this book, you will be armed with the tools to allow the right man into your life and ultimately get a husband.
Laurel, MD (PRWEB) May 18, 2015
Dr. Monique Rainford did not have a straight and easy path to finding her life partner, her husband, Chester Ryan Bourne. Her personal experience and those of the many women who she interacted with both socially and through her OB/GYN practice led her to write this book. Using her own experience and that of the more than fifty women she interviewed, she has provided a roadmap, complete with traffic signs, roadblocks and potholes that women encounter on the way to marriage. Whether or not they succeed has a lot to do with how they navigate this journey. If you are on the path to finding the right man for marriage, this book is a must.
In this book, Dr. Rainford takes on the complexities of relationships hoping to help women to find a loving husband and a happy marriage. She explains, "It is my hope that after reading this book, you will be armed with the tools to allow the right man into your life and ultimately get a husband. Hopefully, near the end of a long, happy marriage you will have the optimism and faith to say to a discouraged, single woman that when she meets the right man, it will be 'soooooo good!'"
Dr. Rainford will be doing a book launch and book signing on Tuesday, May 26th, 2015 from 6:30pm to 8 pm at Busboys and Poets @ Takoma:
235 Carroll St NW
Washington, DC 20012
202-726-0856
'Please God, Send Me a Husband' can be purchased at http://www.moniquerainford.com/. Dr. Rainford's website also includes a Love & Marriage blog, where she writes advice and observations, interwoven with some personal anecdotes. In addition, there is an events calendar so people can keep up with book signings and speaking engagements.
Monique Rainford M.D. is a medical doctor specializing in obstetrics and gynecology, and the author of The Maternal Glow – A Jamaican Woman's Guide to Pregnancy. She is a graduate of the University of Pennsylvania and Harvard Medical School where she has been recognized for her outstanding academic performance having been awarded the John Russwarm Award for Academic Excellence and the Robert H. Ebert Award in Primary Care Medicine from each university, respectively. She completed her residency in Obstetrics and Gynecology at Georgetown University Medical Center.
She is guided by her years of experience in counseling and discussing relationship issues in both private and public forums. Dr. Rainford has provided relationship advice for the South Florida Times at http://www.sfltimes.com/?s=Dr.+Monique. She co-founded DCLifestyleMD in 2014. DCLifestyleMD is an organization committed to improving the health and well-being of individuals . For more information, visit http://www.lifemd.org. She is happily married to Chester Ryan Bourne and they are the proud parents of Zane and Kia.