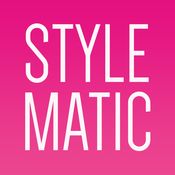 (PRWEB) May 13, 2015
"Stylematic" was featured on NewsWatch as part of its monthly AppWatch, which takes a look at the latest and coolest applications on the market for iOS, Android, and Windows. Joe Toohey, the host of AppWatch and technology expert, conducted the app review and shared with viewers how this applications allows users to create virtual closets, mix and match outfits, and connect with other fashionistas.
When trying on an outfit or figuring out what to wear, it's always good to have a friend around for a second opinion. But sometimes that's not possible. Well luckily there's technology to help people with that - specifically an app called Stylematic. This pocket stylist opens people up to a whole community of fashion lovers and fashionistas.
In the main feed of the application, there are endless streams of items that users can check out and decide whether they love them or not. Users can then either buy them in the app or put them in their virtual Stylematic closet. With the items in their closet, they can mix and match to create an outfit. Users can interact with others in the app and even put their own outfits up for a vote. And to gain inspiration, the fashionistas can check out other users' closets.
Stylematic learns users' preferences over time and recommends things they're more likely to be interested in. And with the option to discover and purchase through the app after research and social input, users can make it a one-stop shopping experience for their wardrobe. And hey, who doesn't love a free app that eases the potential headache of trying to find the right thing to wear? It's currently available for iOS and is coming to Android soon.
To learn more, visit http://stylematic.co/ today.
About NewsWatch
NewsWatch is a weekly 30-minute consumer oriented television show that airs on the History Channel, FYI Network, and ION Network. NewsWatch regularly features top technology products and services, mobile applications for iOS, Android, and Windows devices, unique and beautiful travel destinations around the world, health and medical tips, and entertainment interviews on the show. NewsWatch airs on the History Channel at 6:00 – 6:30 AM ET/PT and on the FYI Network from 7:00 – 7:30 AM ET.
NewsWatch is located in the greater Washington, DC area and has been on air for over 25 years. For more information or to watch the most recent episode, visit http://newswatchtv.com/appwatch.html.