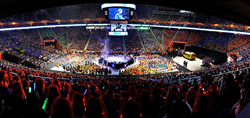 The NASA expo and skills workshops will provide students with an in-depth understanding of what's involved in space exploration.
CHERRY HILL, N.J. (PRWEB) May 13, 2015
May 13, 2015 – Destination Imagination (DI), a non-profit organization dedicated to fostering students' curiosity, courage and creativity through open-ended STEM, fine arts and service learning challenges, has announced a partnership with National Aeronautics and Space Administration (NASA), the U.S.'s space agency, for Global Finals 2015, the culmination of the DI season and the world's largest celebration of creativity.
"Science and innovation are core components of what DI teaches students," said Dr. Chuck Cadle, CEO of Destination Imagination, Inc. "Having NASA at Global Finals will provide a hands-on experience for the 8,000 plus participating students, and help them to further develop their creativity and problem solving skills."
The NASA exhibit will boast a Mars simulation experience, a 30-foot inflatable Space Launch System (SLS) rocket, Mars research and artifacts, 'Create Your Own Mars Colony' kinetic sand station, images from the Hubble Space Telescope, a selfie spot scavenger hunt, and a 'Train Like an Astronaut' agility course.
In addition to the interactive experiences provided in the expo, upper elementary to high school-aged students will be able to attend skills workshops provided by the agency, that include:

Water Filtration – Water recycling is a key component of living on a space station, and students will learn how it works and will build their own recycling system.
Light But Strong – Participants will get an inside look at the current SLS rocket.
Space Vehicle – The Mars Rover is a key component of NASA's current research, and students will be able to build their own space exploration vehicle.
Parachuting Onto Mars – NASA is currently designing the largest parachute to ever be used, and participants will have the opportunity to create their own.
Looking at Our Star the Sun – Students will see the sun as they never have. Using special filters to safely gaze at the sun, as well as look through a special telescope for observing the layer above the photosphere.
Planetarium – The workshop will begin with a full dome presentation of the story of the telescope, and students will see Jupiter through the eyes of the Hubble Space telescope and some of the oldest stars in the galaxy.
Nighttime Sky Observation – Participants will learn several constellation and star names, observe Jupiter and Venus, and see a few wonders called deep sky objects like galaxies and clusters of stars.
"The NASA expo and skills workshops will provide students with an in-depth understanding of what's involved in space exploration," said Tammy Rowan, academic affairs manager at Marshall Space Flight Center in Huntsville, Ala. "At NASA, we understand the importance of problem solving and creativity, and we are pleased to partner with an organization who shares a similar vision of instilling those values in students, preparing them to be future innovative leaders."
For more information about the expo and skills workshops at Global Finals, visit http://globalfinals.org.
About Destination Imagination
Destination Imagination, Inc. is a 501(c)(3) volunteer-led non-profit organization whose purpose is to inspire and equip students to become the next generation of innovators and leaders. The most popular education offering is the Challenge Program, where student teams solve open-ended STEM, arts and service learning Challenges and present their solutions to trained appraisers. Founded in 1982, Destination Imagination has impacted more than 1.5 million students. To learn more, please visit http://www.destinationimagination.org/.
###
For additional information, contact:
Heather Ripley
Ripley PR
hripley (at) ripleypr (dot) com
865-977-1973