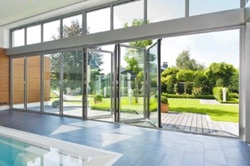 The folding panels are the narrowest available at just 1-7/8 inches wide, yet individual panels can be specified up to ten feet tall and more than three feet wide. - NanaWall Systems CEO Ebrahim Nana
SAN FRANCISCO, CA (PRWEB) May 13, 2015
In another move that will redefine what is possible in architecture and design, NanaWall Systems will present the thinnest profile, most energy-efficient opening glass wall on the market—the new NanaWall SL80/81 Folding Series—at the 2015 American Institute of Architects (AIA) Expo in Atlanta on May 14-16, 2015 at booth 2659. With an ultra-thin profile, unparalleled thermal performance and virtually unlimited configuration options―including inward or outward opening, the system promises to create entirely new possibilities in residential and commercial applications.
"Our new SL80/81 Folding Series is so thin, it must be seen to be appreciated," notes NanaWall Systems CEO Ebrahim Nana. "The folding panels are the narrowest available at just 1-7/8 inches wide, yet individual panels can be specified up to ten feet tall and more than three feet wide. Furthermore, with a triple insulated core, this folding system is extremely energy efficient."
TWEET THIS: @NanaWall redefines market again with slimmest, most energy-efficient folding glass wall! http://bit.ly/1CBgQbj
NanaWall SL80/81 Folding Series is an aluminum framed, thermally broken folding system which allows for expansive glass walls and broad vistas when opened. The SL80 features a smooth rounded frame profile, compared to the angular profile of the SL81.
The SL80 and SL81 are the most energy efficient of its kind on the market and are rated, certified and labeled National Fenestration Rating Council 100/200 and are able to meet Energy Star standards. The system also excels at air and water resistance as well as superior sound insulation.
With the NanaWall Floor Supported Technology, the new system offers ultra-smooth operation (rolling on stainless steel wheels on a stainless steel track) and more flexibility for applications where a building's height might change over time, such as from settling or snow loads.
At AIA, architects will also be able to test drive the new NanaWall Conceptual Drawing Program, a service that assists architects early in the design stage from the first simple hand sketch to providing 3-D Conceptual Drawings of the project to gain greater understanding of how to design with NanaWall systems. The company will also showcase its award-winning Kitchen Transition 2.0, a single track sliding system with a dual height window/door combination that opens a countertop and/or the entire kitchen area to the outside.
For more information, visit nanawall.com, call 800-873-5673 or follow at http://www.facebook.com/NanaWall.
# # #
Media Notes
Related Links:

About NanaWall Systems
NanaWall Systems redefined the category of opening glass wall systems. During its 25-plus years in business, the company has earned the trust of architects, builders, design professionals, and homeowners as a solutions provider for re-imagining how buildings, people, and the elements interact. By combining precision engineering and outstanding design options across more than 20 unique systems, NanaWall Systems advances design possibilities beyond the conventional for almost any space.
NanaWall Systems is located in the San Francisco Bay Area, with 22 showroom and design studio locations across North America. NanaWall Systems is the exclusive North American partner of Solarlux Germany, the world leader in opening glass wall technology.
About American Institute of Architects (AIA)
AIA Convention 2015 is one of the largest gatherings of architecture and design professionals in the world, and the expo floor is a hotspot of activity. It's not just an exhibit hall—it's also a temporary built environment packed with the first looks that will affect practices into the future. Nearly 800 exhibiting companies represent software and technology, energy efficiency, building systems, finishes, lighting, stone and tile, restoration and more. The materials and technologies of tomorrow featured in specialty product pavilions today. The event will be May 14 – 16, 2015 in Atlanta, GA at the Georgia World Congress Center.