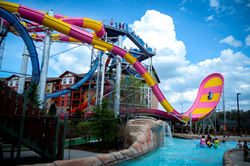 ...head to the Volunteer State where the best summer vacation memories are Made in Tennessee.
Nashville, Tenn. (PRWEB) May 13, 2015
Come to Tennessee to create a summer vacation soundtrack. Choose from a long list of ear candy: Live music at every festival or on just about every corner; the sound of a cannonball splash at Nashville Shores, H2Oh! Splash in Memphis and some of the cleanest lakes in the world; and songbirds and chirping crickets at any one of 54 award-winning state parks. Pack a bag and head to the Volunteer State where the best summer vacation memories are Made in Tennessee.
Memorial Day Weekend Events
May 23
Silver Point – Reserve a campsite and show patriotism for the Memorial Day Weekend campsite decoration contest for both daylight and nighttime at Edgar Evins State Park. Patriotic appropriateness, originality, and attractiveness will be considered.
Samburg – The Bike & Boat Run – Heroes Memorial will honor all veterans and those who have sacrificed their lives 6:30 p.m. at Reelfoot Lake 600 E. Lakeview Dr. in Samburg. Live music, food, and the Color Guard will also be featured at the event.
Allons – Enjoy a trunk show with refreshments and door prizes, a character dinner which will include princesses and superheroes at the Galley Restaurant. Live music, art demonstrations, and a movie on a floating screen will take place at Mitchell Creek Marina. The event is free and open to the public.
Jonesborough – Celebrate summer with the official opening of The Wetlands Water Park which includes a rain tree, water slides, bubblers, and tumble buckets in Jonesborough.
May 23-25
Union City – Discovery Park of America will host a World War II Living History event which will include a war encampment, soldiers, a reenactment of the battle of Okinawa, weapons, World War II vehicles and a M5A1 Stuart Tank on the Great Lawn at Discovery Park of America.
Memphis – Children's favorite exhibit, "H2Oh! Splash" will officially open with more than 7,700 square feet of water fun through Labor Day at The Children's Museum of Memphis.
Don't Miss Tennessee's Newest Places to Have Summer Fun
Bass Pro Shops at the Pyramid is the new national destination experience now open to the public in downtown Memphis. Outdoor gear is just the tip of the pyramid when talking about the new supercenter. From nearly 600,000 gallons of water features; the Big Cypress Lodge which includes 103 rooms inside Bass Pro Shops that have private screened-in porches, treehouse suites, and cabins with interior and exterior views; a cypress swamp with 100-foot tall trees; 84,000-gallon alligator habitat; and The Lookout which is a glass-floored observation deck at the top of the Pyramid, and the nation's tallest free-standing elevator clocking in at 28-stories, visitors will be awed as soon as they step inside.
Spanning more than 44,000 square feet, the George Jones Museum in Nashville is a tribute to the music icon thanks to his wife, Nancy Jones. Displays of memorabilia and photos, video displays and interactive experiences immerse visitors in the life and career of Jones. The museum also includes a 40-seat rocking chair theater that shows broadcast, concert, and interview clips. The space includes two restaurants, a rooftop bar that overlooks the Cumberland River and LP Field, and a public exhibition space and event center. The museum is located at 128 Second Avenue North in downtown Nashville.
The newest water adventure, Big Kahuna opens for the 2015 season at Nashville Shores. The ride is designed for the whole family as it starts from a 57-foot platform then sends riders flying through a series of tunnels, drops, and curves. The raft slides through the tunnel opening and splashes into the s-shaped waterway and finally hits the catch pool. Located adjacent to The Big Scream, Big Kahuna enhances Nashville Shores as a regional summer destination.
Get ready for the thrill of the summer as The WALL is now open at Wilderness at the Smokies in Sevierville. This waterslide combines thrills and spills for the ultimate experience. Two people can ride in one raft which goes through dark turns and twists, a steep drop, a ride up a 35-foot wall, and a backwards ride into the slide to land in the pool below. The WALL is located in Lake Wilderness Outdoor Waterpark which also contains Wild Vortex, Cyclone Racers, and Lake Wilderness Cabanas, so visitors can catch their breath after all the excitement.
The 230,000 square-foot Dollywood's DreamMore Resort, opening in August 2015, in Pigeon Forge consists of 306 guest rooms and "family sanctuaries" like fire pits, hammocks, swings, and story spots throughout the grounds. Rooms include king rooms with bunk beds; extended suites; double queen rooms; king rooms with sleeper sofas; and reunion suites with adjoining rooms to create a connected family space. In addition, a spa, indoor and outdoor resort pool complex, and a farmhouse-style restaurant are included.
# # #
Explore more summer fun at tnvacation.com and join other Tennessee travelers by following "tnvacation" on Facebook, Twitter, Pinterest, Instagram and YouTube.