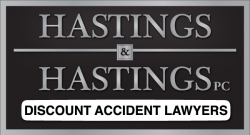 Phoenix, AZ (PRWEB) May 14, 2015
The Insurance Information Institute reports that since 2014, the number of dog bite claims has increased six percent, up to a total of 17,359 claims. This estimate may be conservative, given that fact that most dog bite claims go unreported due to a lack of awareness that dog bite claims are a legitimate tort.
"The recent statistics released by the Insurance Information Institute are not surprising. However, whether the spike in dog bite claims is due to feistier dogs or careless owners remains a mystery," said Erwin Braich, attorney at Hastings and Hastings.
A legitimate animal bite suit results when a person is injured by an animal or a dog. It must be shown that the animal was permitted to bite the victim because of the owner's negligence. Moreover, the bite must be unprovoked. That means if you attack a dog, or instigate it any way, then it may be the case that your dog bite claim falls apart. Even if the dog's owner was flagrantly negligent, a provoked dog bite will undermine the entire law suit.
Many are curious who is liable for compensating the victim, given that fact that you can't sue a dog. Usually, a dog bite suit is pressed against a homeowner's insurance policy. Most policies provide $100,000 to $300,000 in liability coverage. If the dog owner is a renter, or uninsured, the victim may be out of luck. However, with the case of a renter, it is possible to sue the landlord, however it is unlikely. Also, for owners of dangerous dog breeds, such as pit bulls, and Rottweiler's, dog insurance is usually required. One such provider, The Federation of Insured Dog Owners, is conveniently abbreviated as (FIDO). The insurance only costs $75 dollars a year, and offers protection policies ranging from $50,000 to $100,000. However, many dog owners neglect to purchase it.
Although most dog bites deal with minor injuries such as open wounds of extremities, and open wounds of the neck, head, and trunk, some serious injuries such as infection are frequent. Also, the psychological damage can be severe and sometimes irreparable. Although overlooked as a serious tort, dog bite claims continue to become more frequent, and will continue to increase in the future.