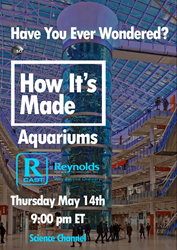 Grand Junction, CO (PRWEB) May 14, 2015
Have you ever wondered just how they're made? If so, then tune in to the Science Channel on Thursday, May 14 at 9 pm ET to learn all about the process of aquarium building. Reynolds Polymer allowed the HOW IT'S MADE crew exclusive access onto its factory floor in order to give viewers an inside glimpse into this fascinating process.
About Reynolds Polymer Technology, Inc.
During its 30 years in business, Reynolds Polymer Technology, Inc. has completed more than 1,900 projects in 57 countries, including the Aquadom in Berlin, Shark Reef in Las Vegas, and many other custom works. Reynolds is the manufacturer, fabricator, designer, and installer of R-Cast® acrylic sheets. The company is constantly raising the standard for what can be done with acrylic resins, and their products have been used extensively in the architectural, signage, aquarium, water-retaining, and scientific industries. Headquartered in Grand Junction, Colorado, Reynolds Polymer also has operations in Rayong, Thailand. Visit http://www.reynoldspolymer.com for more information. Proud member of the Association of Zoos and Aquariums.
Contact: Ed Mueck, Marketing Manager | Reynolds Polymer Technology, Inc. | 970.241.4700