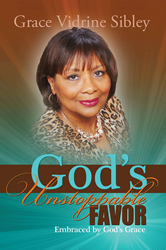 Written carefully, with much sensitivity and compassion, this book will ignite a burning flame in your heart.
Ville Platte, LA (PRWEB) May 26, 2015
In God's Unstoppable Favor, Grace Vidrine Sibley takes the readers along with her as she writes an unforgettable story of how God has blessed her through unusually difficult challenges in her life. The first black student to desegregate Evangeline Parish School District in 1965, she was harassed and beaten by some students, treated harshly by a few teachers, and shot at by a white woman. A motivating personal phone conversation with Dr. Martin Luther King, Jr. ignited a renewed determination to fight for equality and justice.
Sibley explores how she survived kidney failure at age 14, racial insensitivity on a white college campus, homelessness in Chicago's slums, cancer while pregnant with twins, and a serious car accident. She describes how these experiences left her physically and psychologically hurt but spiritually and emotionally strengthened.
God's Unstoppable Favor also contains a bonus book, Embraced by God's Grace. Grace shares meditations and conversations with God that impart to the readers that they, too, are protected by His power, embraced by His passion, and surrounded by His presence. Her unique book invites, and will reward, serious reflection.
Financial Life Strategist Ernest F. LeBlanc, Jr. acclaims: "What makes this page-turning book one that cannot be put down until the last word is read is that it is written with the absence of ranting, ravings, and excuses. Written carefully, with much sensitivity and compassion, it will ignite a burning flame in your heart."
Grace will be at Ville Platte City Hall for a book signing on Friday, May 29, 2015 from 10 – 5:00 p.m. Books, which are usually $19.99, will be on sale for $16.99 at this event. The address is:
126 E. Main Street
Ville Platte, LA 70586
For those who cannot attend the event, books can be purchased from Mira Digital Publishing and amazon.com.
Grace Sibley is a well-known Bible teacher, educational supervisor, and Christian educator. The author of Parables for People with a Purpose, she received her B.A. degree from Bishop College in Dallas, Texas, and her master's degree in education from Boston University, where she acquired 48 doctoral credits. "Amazing" Grace, a National Board Certified Teacher, currently serves as Title I Supervisor and Homeless Liaison in Evangeline Parish School District in Louisiana.