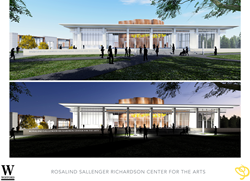 "It is our vision that this new center will be a place that will enhance the student experience here at Wofford" Wofford Alumnus and Carolinas Panthers founder and owner Jerry Richardson
Birmingham, Alabama (PRWEB) May 13, 2015
General contractor Robins & Morton has been selected by Wofford College to manage construction of The Rosalind Sallenger Richardson Center for the Arts. Groundbreaking ceremonies were held Tuesday, May 12. The firm will also manage construction of The Jerry Richardson Indoor Arena, a new indoor athletic facility scheduled to start in early 2016.
The 67,000-square-foot center for the arts, slated to open in 2017, will become home to academic programs in theatre arts, visual arts and art history. Designed by McMillan Pazdan Smith, the exterior will feature masonry, stucco and copper, and large areas of glass will allow natural light into art studios and connect with the outdoors. College officials say the building will feature "high-performance" theatrical lighting, rigging and audiovisual systems.
Other features of the building will include an outdoor sculpture garden, a 300-seat performance hall with a 2,600-square-foot stage, a museum for Wofford's permanent collection, student gallery, black box theater and dressing rooms.
The Rosalind Sallenger Richardson Center for the Arts will feature two custom-made glass sculptures by internationally renowned artist Dale Chihuly.
The first – a 31-foot-long, 8-foot-wide, 4-foot-tall chandelier-like sculpture in beautiful autumn colors of red, gold, orange and green selected by Mrs. Richardson – will greet visitors as they enter the building's lobby. The other – in the same fall colors – will be a 14-foot-tall, 8-foot-diameter piece that will hang in the monumental stair between floors. Both pieces are being custom-made specifically for the building.
The college's new 92,000-square-foot athletic arena will seat 3,400 for basketball games with a separate venue for volleyball. Some features planned for the new space include state-of-the-art locker rooms, coaches' offices, meeting rooms, video scoreboard and ribbon board, along with areas specifically designed for children. Jerry Richardson Indoor Stadium is slated to open in time for the 2017-18 school year.
– 30 –
About Robins & Morton
Founded in 1946, Robins & Morton is a privately held engineering and construction firm that consistently ranks among Modern Healthcare magazine's annual listing of top healthcare contractors, and has been named one of the best mid-sized companies to work for in America because of its employee- and family-friendly practices. Robins & Morton is an industry leader in higher education construction, with vast experience working on active campuses among ongoing student life. Robins & Morton has completed over $630.5 Million in Higher Education Work. Robins & Morton is based in Birmingham, Ala. with offices in Dallas, Texas; Huntsville, Ala.; Orlando, Fla.; Nashville, Tenn.; Charlotte and Raleigh-Durham, N.C. For more information, visit http://www.robinsmorton.com.