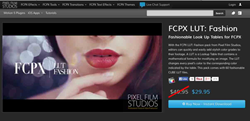 Final Cut Pro X is lacking some essential plugins. We intend to satisfy the needs of fans of FCPX around the world and get them what they need." Said Christina Austin - CEO of Pixel Film Studios.
Aliso Viejo, CA (PRWEB) May 17, 2015
With the FCPX LUT Fashion pack from Pixel Film Studios, editors can quickly and easily add stylish color grades to their footage. A LUT is a Lookup Table that contains a mathematical formula for modifying an image. The LUT changes every pixel's color to the corresponding color indicated by the table.
This Plug-in changes every pixel's color to the corresponding color indicated by the table. By manipulating each pixel, LUT's can change each color range differently giving the user more control over their look.
The Fashion LUT pack comes packed with 60 stylistic film-inspired CUBE Look up table files.
Inspired by magazines and fashion commercials, FCPX LUT Fashion can instantly make give any footage a stylish look. From vintage looks, to contemporary fashion and everything in between.
CUBE LUT files are extremely versatile and users can simply drop the loader on top of their footage and then use the drop down menu to select or import a CUBE file.
If the LUT doesn't fully achieve the desired look, editors can use the built-in customization controls in the FCPX LUT Fashion Loader to adjust the strength, contrast, brightness and saturation of the image.
Pricing and Availability:
The Pixel Film Studios Plug-ins are available today through the Pixel Film Studios website starting at $29.95 USD. For more information, please visit the Pixel Film Studios website.
Established in 2006, Aliso Viejo, California-based Pixel Film Studios is an innovative developer of visual effects tools for the post-production and broadcast community. Their products are integrated with popular non-linear editing and compositing products from Apple FCPX. All Apple, the Apple logo, Mac OS X, and Macintosh are registered trademarks of Apple Inc. in the U.S. and/or other countries. All other trademarks and trade names are the property of their respective owners.